The First Six Terras
The Life and Times of a Scout Pilot Model
Tuesday, September 8, 2020 - 15:30

Enthusiasts will learn all there is to know about Scouts in the revised edition of the International Scout Encyclopedia. This book gives the only Scout book you'll ever need a shelf-mate! The companion edition features new information on the most collectible trucks, a new section identifying all the appliqués offered, an expanded index, and tweaks and updates throughout. 

This installment gives a little "inside baseball" perspective on how a new model is developed and what happens to those pilot model vehicles once the company is finished with them.

We all know the long wheelbase Scouts debuted for the 1976 model year. The timing was perfect because the IH Light trucks and the Travelall were discontinued in 1975. You are no doubt thinking the LWB Scout debut and the decision to end the trucks were preplanned but there is no remaining documentary evidence we've seen to support that. It's unknown exactly when the final decision was made to end the light trucks but we know it was fairly close to when it actually happened and it definitely postdates the decision to start on the LWB Scout project that began in 1971 or 1972. The way it worked out did offer IH a "reserve parachute" in the light truck/fullsized SUV market and allowed them to retain a small share of the light truck market. Given the low sales numbers of the Terra pickups, that was just a tiny fraction of their previous slice of the pie, but at least they were still in the game. A little pie is better than none!
First of the Terra Breed
If you've read International Scout Encyclopedia, you will know the first Terra pickup prototype was hand-built in April of 1972. From our research, it appears the Terra prototypes came before the Traveler. The first of those we see came in 1973. Of course, they were basically the same thing, save the tops, and the first Terra used the half-cab from the 100 inch line.  The chassis stretch was relatively simple and since the older tops were available, it allowed them to test the concept. There was a pretty long road to the fiberglass Terra and Traveler tops but most of the work had been done on the Terra cab by December of 1973 and a finished Traveler top was inspected by involved engineering types at the Truck Design Center on November 14, 1974. Most of the issues related to the Traveler top, especially the rear liftgate. The Scouts themselves had largely already passed all their testing. From the available materials, it appears there were three handbuilt 118-inch wheelbase prototypes built and they were initially tested as pickups. As the prototype Traveler tops became available late in '74, they were converted for testing as Travelers.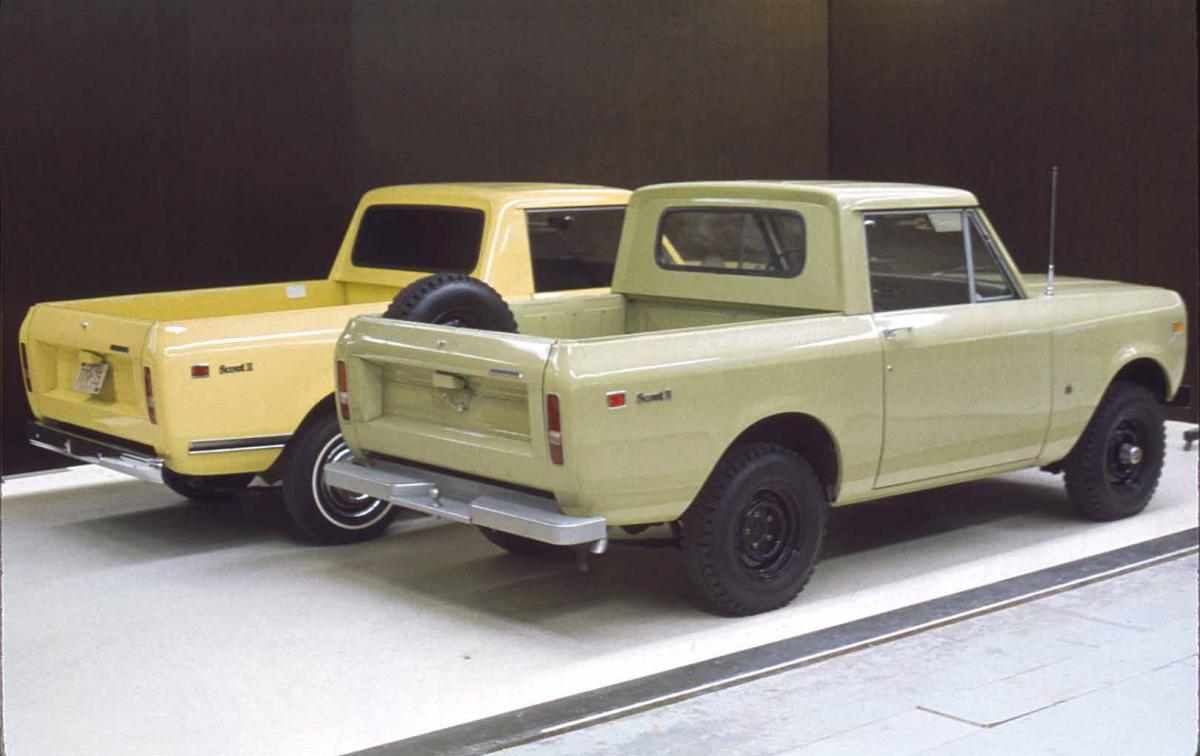 From December of 1973, here is one of the first three Terra prototypes juxtaposed with the standard production 100 inch Scout II Cabtop in a studio shot. The first version of the fiberglass top has been added by this time. When the first prototypes debuted, they used the same metal cab as used on the 100 inch Scout IIs. The very first Terra emerged from the prototype shop in April of 1972.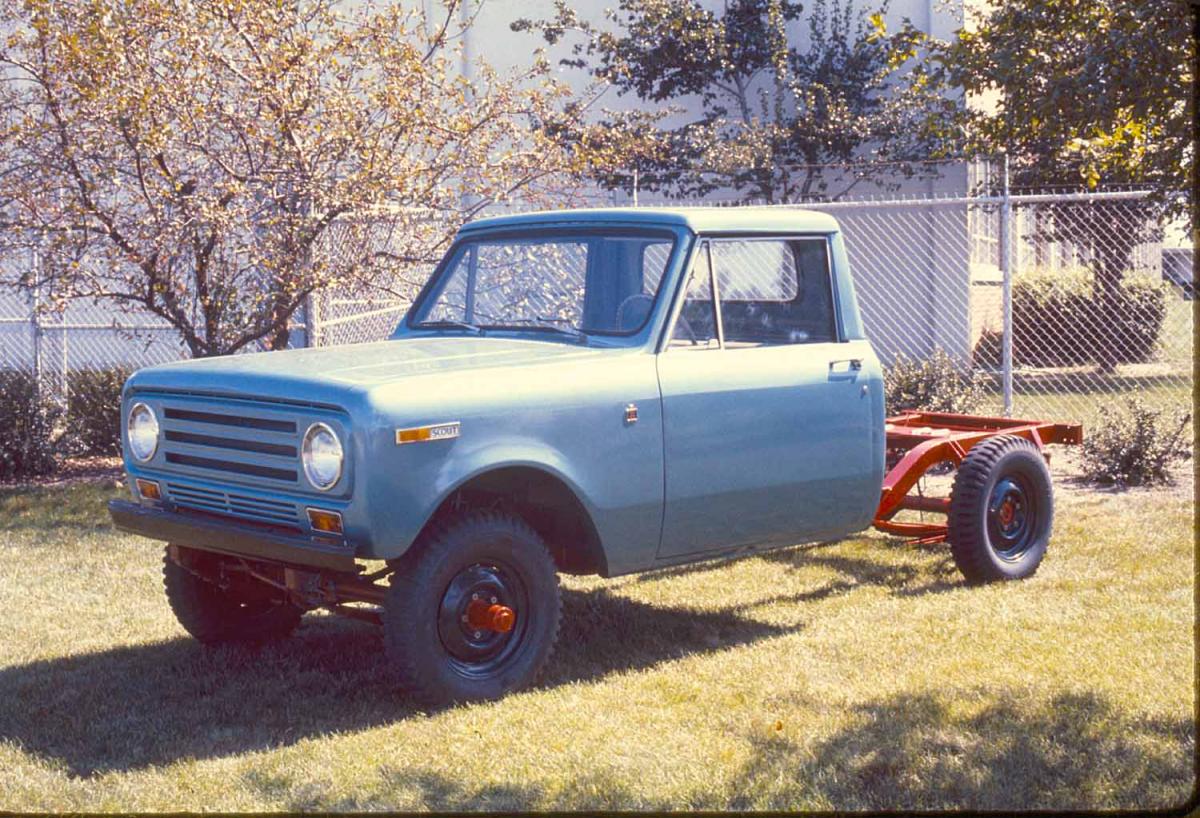 In 1968, at least two experimental Scout cabs were built for a 122-inch wheelbase Scout pickup design intended for export that featured a separate box or possibly a flatbed. At least a couple of  prototypes were built for testing and were later sold to employees and reportedly seen tooling around Fort Wayne for years with flatbeds mounted. They were obviously 100 inch chassis and apparently the project never produced a 122-inch chassis. The little documentation we have on these is that marketing were considering an export pickup version of the Scout... possibly for the Australian "Ute" market. Note the orange chassis, a sign of an experimental prototype, and the internally splined hubs indicate a Bronco-style Dana 30 front axle that was used on many of the earliest prototypes.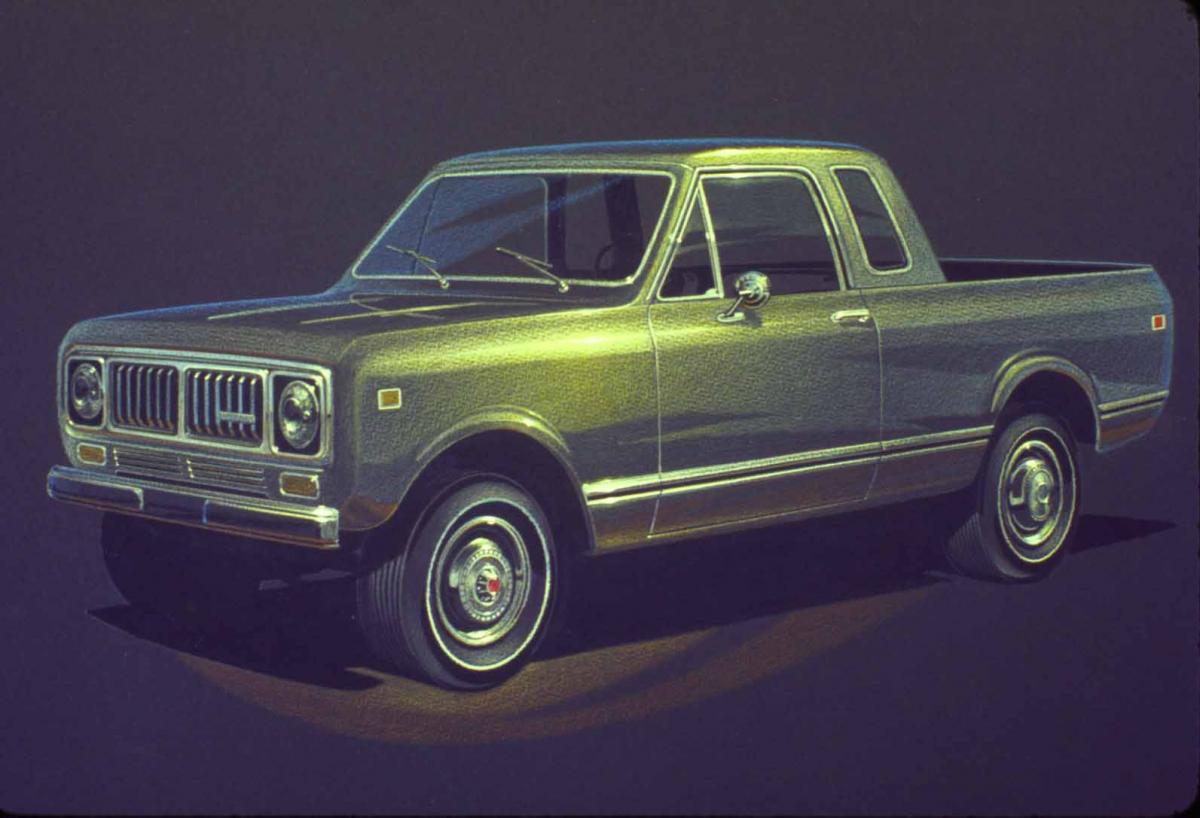 The Styling Department was busy penning ideas for the new IH pickup. Since Club Cabs were the hot ticket in those days, Larry Nicklin worked one up for the suits to consider. It was called the "Greenhouse Club." Because it took up too much bed space, the Club Cab was not adopted. It was certainly stylish enough, though, and some would have welcomed the additional cab space. It might have worked had they used the 122 inch wheelbase originally considered back in '68. Come to think of it, that wheelbase would have left plenty of room for a four-door SUV... something that may well have changed IH history.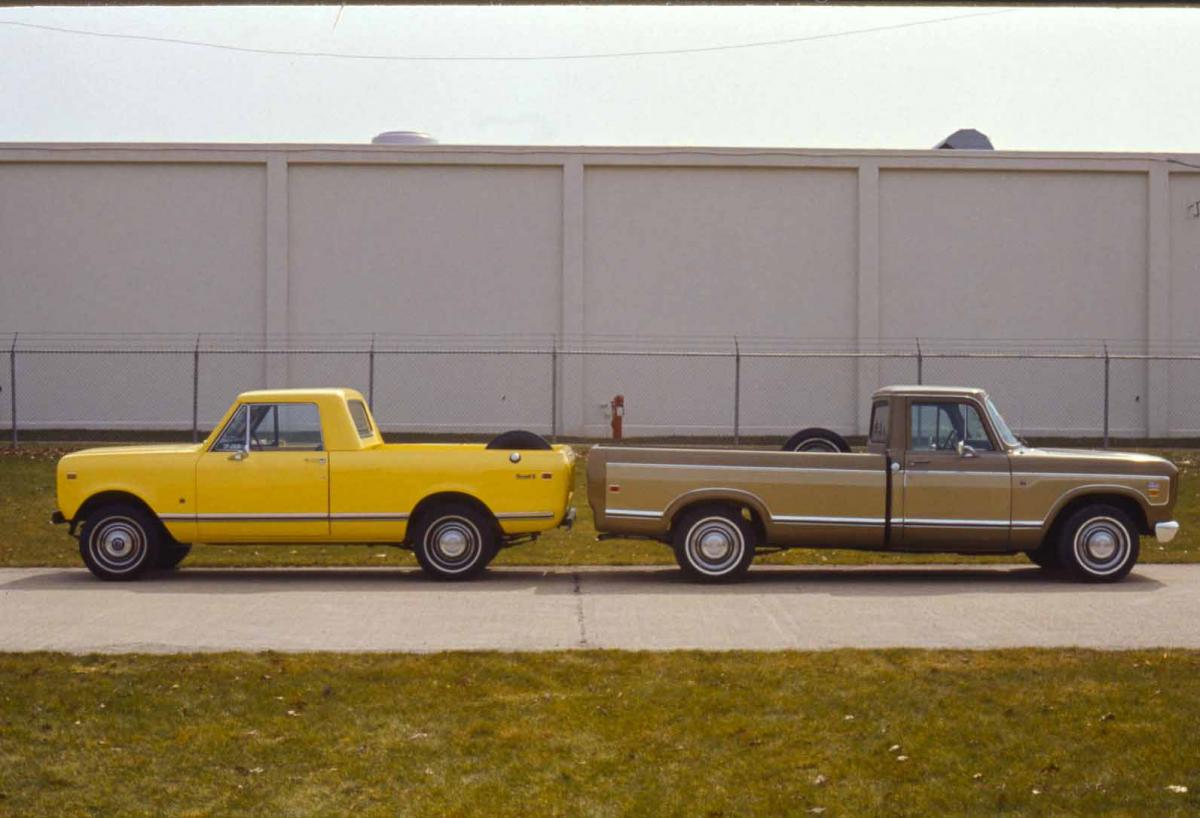 April 1974: One of the first proto Terras with the 5,200 pound GVW 100 series longbed truck it replaced in after 1975. You light truck fans are crying seeing this!

Pilot Model Terras
Once a vehicle gets out of the prototype stage, they start building pilot models. The prototypes are often hand-built in a separate shop. Pilot models usually go down the line. That is as much a test of integrating the new model into production as it is getting more test units out for field work and promotion. In the last days of April, 1974, more than a year before the new model would debut, the first pilot model Terra rolled down the assembly line as Pilot Model #1. Pilot models can be tough to track down but as luck would have it, helpful people provided the clues needed to find the first six pilot model Terras.
It turns out the late and great Sales Engineer Larry Ehlers, a guy very much responsible for the Scout racing program and the SSII, was looking for a Scout to build up late in 1975 and ended up buying one of those pilot models. His material, generously loaned by the Ehlers family, contained enough clues to find the LSTs of all six and pictures of a few, as well as giving us the opportunity to identify some of the others in period images.
The first, DGD36104, was shipped on May 2, 1974, went to TSPC (Truck Sales Processing Center) for some unspecified work and was finally sent to Truck Engineering for tests. The other five trucks did the same thing. It was  a 4x4 in Winter White (9120) with a plain Tanbark interior and mounted a 345 with a 4-speed, open rear diff and 3.31:1 axle ratios. Truck Engineering was to supply the driveshafts and, again, the other trucks followed the same course. We were not able to positively identify this Terra in any images.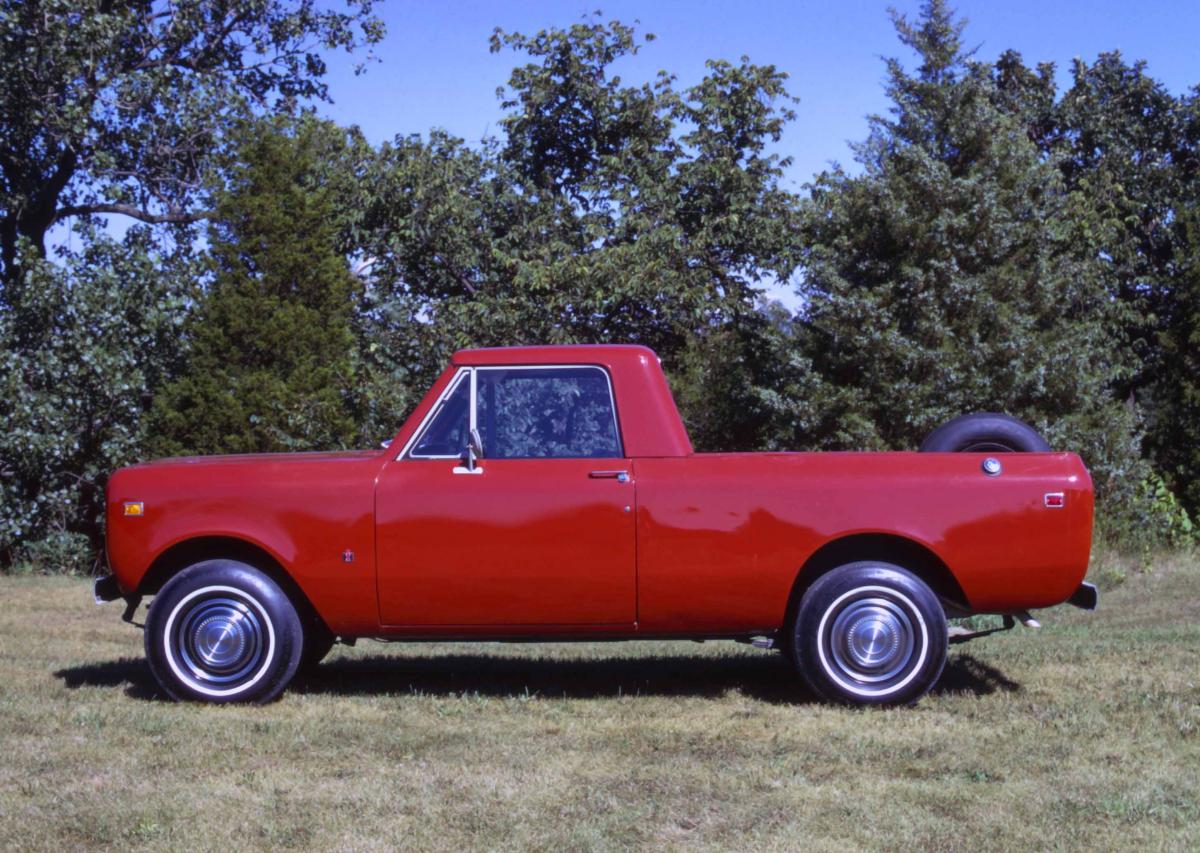 The #2 Terra prototype was DGD36301 and was shipped May 10, 1974. It was a 4x2 that mounted a 304 V8, backed up by a 4-speed. It was ordered in Terra Cotta (2297, which was a 1975 color) with a black standard interior (may have had Tanbark... both were listed on the LST). This image shows #2 in September of 1974 when it was shown at the annual International Harvester Board of Directors meeting. It fell on hard times later, with the rear body cut away to make it a cab and chassis. No reason for that is known but by late '75, the company was done with it and it was for sale. It was a very plain build but the Terra Cotta paint makes it a little more elegant.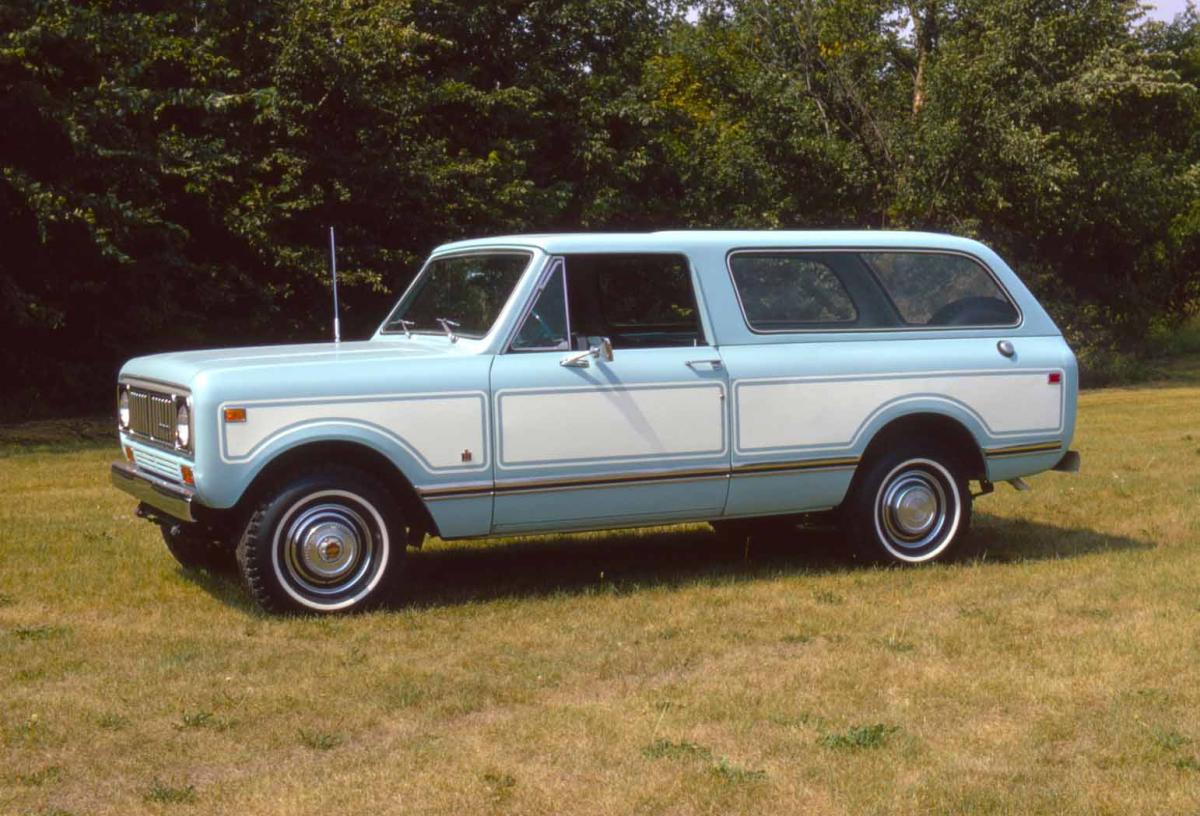 The #3 prototype was DGD36302 built May 14, 1974 in 6772 Glacier Blue with a Deluxe exterior and the 10842 White Two-Tone appliqué. It had a 345 backed up by a T407 automatic, the single-speed TC-143 transfer case and 3.31:1 axle ratios. It had a Custom interior in Blue or the Parchment color (not on the LST below tha both are listed) with AC. Though it's shown here with one of the very first prototype Traveler tops, we are fairly certain this is #3. It was also displayed at the 1974 Board of Director's Meeting.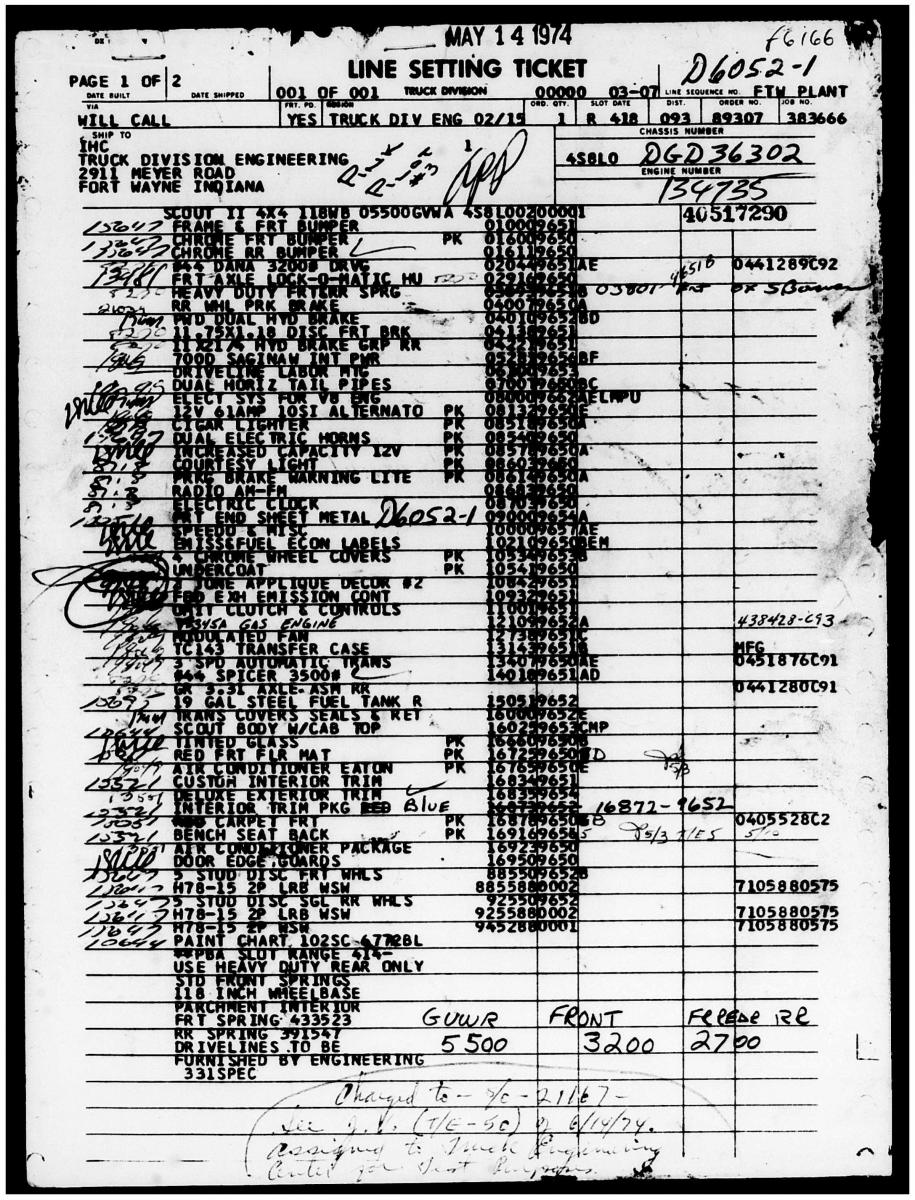 Here is the LST for DGD36302. Note in the Ship-To Box the notation, "Pink Pilot #3". What's with the pink? That was internal code for ASAP... git-er-dun!  You can also see Truck Engineering was the destination.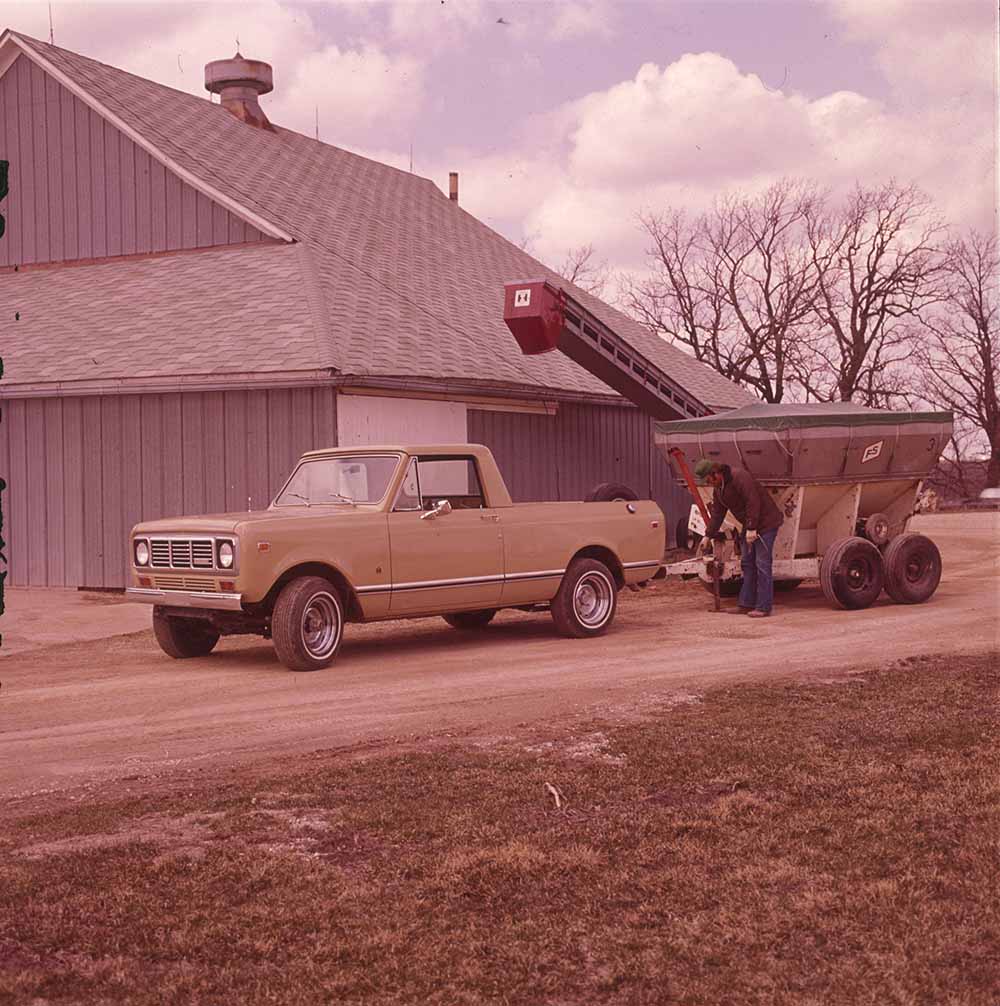 Prototype #4, DGD36404,  was the one Ehlers bought in early '76 and it had only 980 miles on it. It was shipped on May 14 but rolled off the line May 7, 1976. He had to pick it up at Hickory Hills Farm, IH's ag test facility and photo studio in Illinois.  It was a 4x4 in Buckskin (4408) with a Deluxe interior and bucket seats in Saddle, plus  a center storage box and air conditioning.  It mounted a 304 with a 4-speed, Dana 20, 3.31:1 ratios and a Trac-Lok limited slip in the rear axle. This image was taken at Hickory Hill Farmswith the Scout pulling a spreader cart.  It's been dolled up with some Rallye wheels.  Because this image was used to market for the 1976 model year, the 1974 grill has been replaced with a '76 piece. WHS110686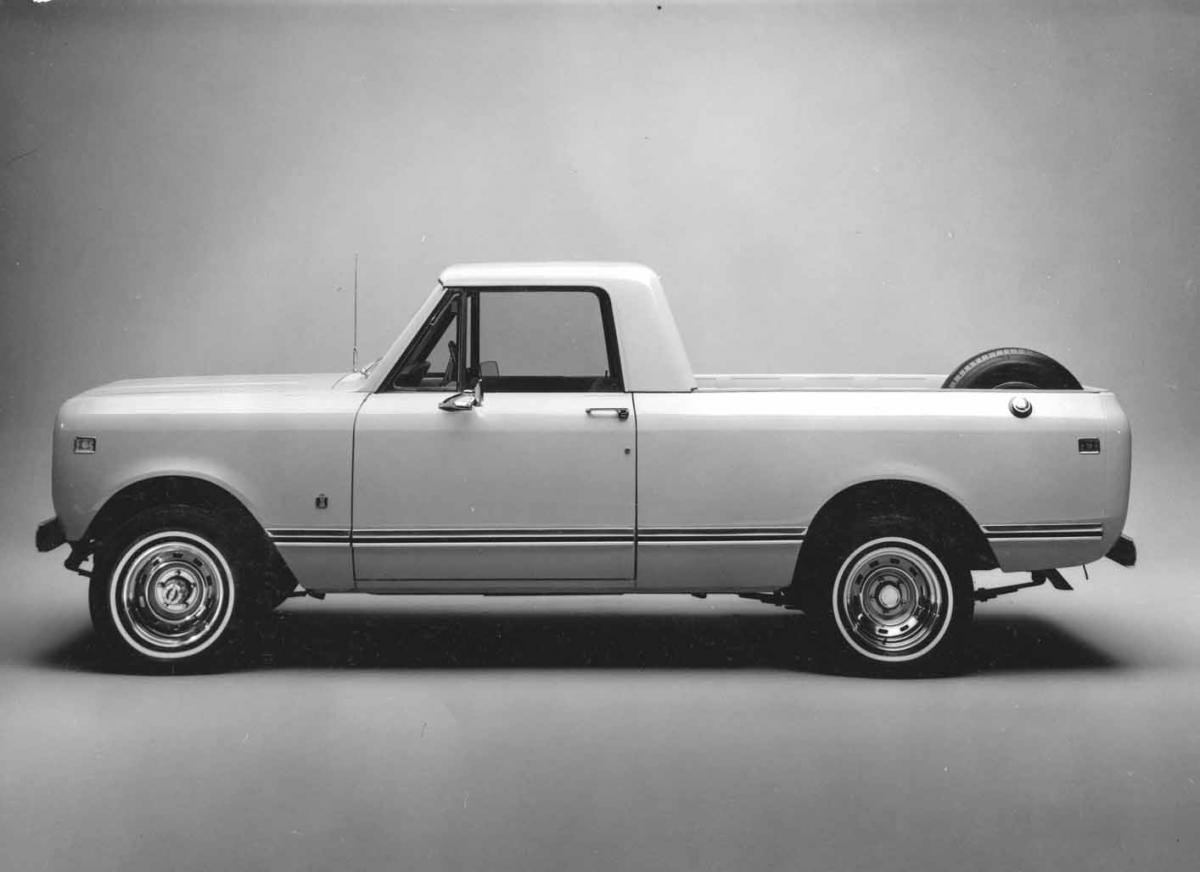 Here is #4 in a studeo marketing image, likely taken at Hickory Hill Farms. You can see it's wearing the same Rallye wheels as in the action shot above. Note the smooth texture on the cab. Early Terras and Travelers had them and a very few have turned up out in the world. Tell us if you have one! The Ehlers Family Collection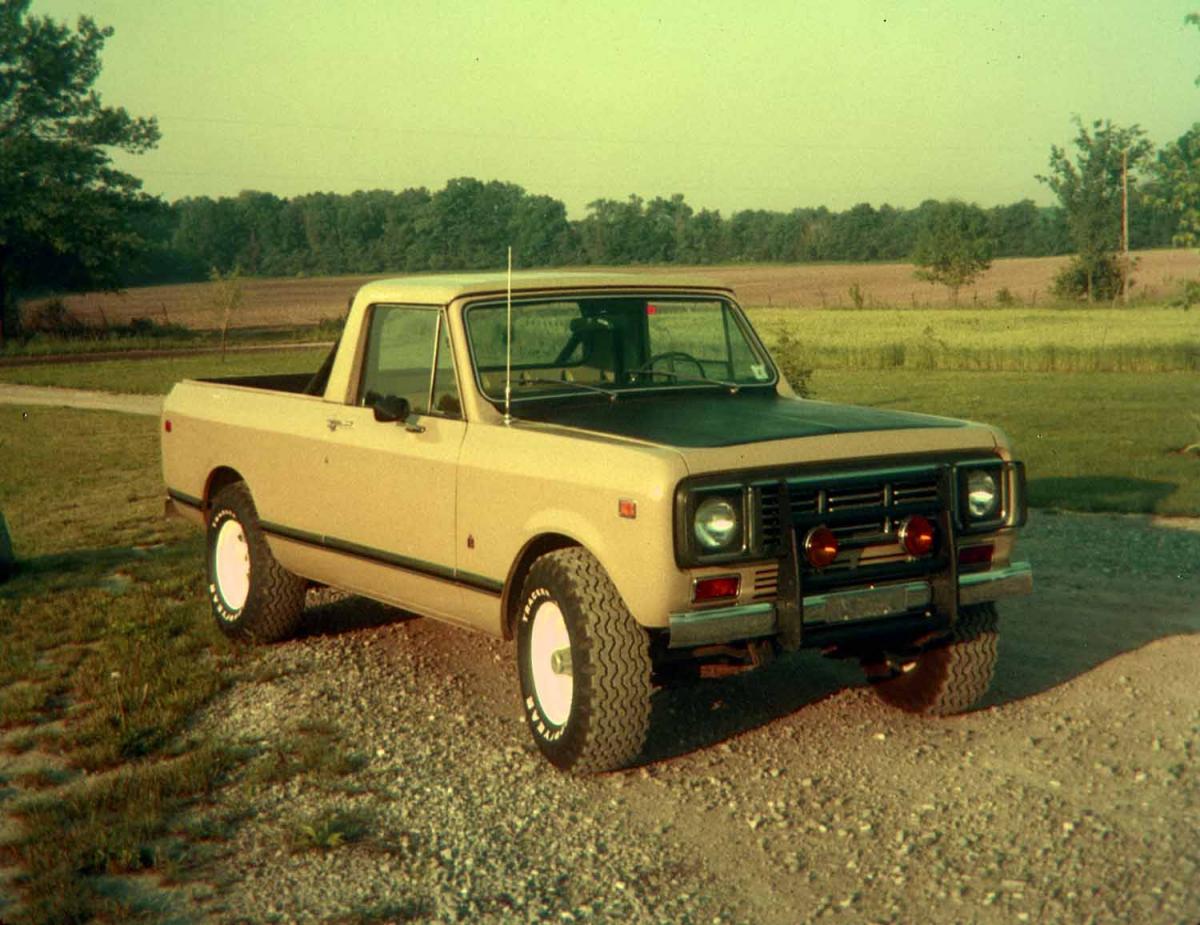 Here is a picture of DGD36404 Larry Ehlers took in the summer of 1976 after he had installed Goodyear Tracker tires on Jackman wheels, a brush guard, fog lights, a sport bar (faux roll bar) and put satin paint on the hood to give it a sporty look. Mrs. Ehlers told us she enjoyed driving it as often as she could get away with it because it was so sporty. The Ehlers were living on some acreage at the time, so a pickup would have been useful. The Ehlers Family Collection
As for #5, GGD36441, it was in 2297 Terra Cotta and was decked out. It had the Deluxe Exterior and Interior, a bench seat in the Sage color and air conditioning. It was another 4x2 and mounted the 304 V8 backed up by a 4-speed and 3.31:1 axle ratios.  The Cabtop was ordered to be painted in 9219 Winter White. We couldn't ID this rig in any pictures.
The final pilot was #6, GGD36537, shipped to Engineering on May 15, 1974.  It was a 4x4 with a 345, the T407 automatic but a single speed TC143 transfer case. It had a Custom interior in black with bucket seats and a center storage box, as well as air conditioning and the top line AM/FM ratio. Most unusual was the paint. The body was  Fire Orange (3195) but the top was 2297 Terra Cotta.  This is another one we couldn't match to any images.
 
What Happened to The First Six?
We know Ehlers bought DGD36404 in January of 1975 for $2375 and did a little dolling up to it. Nobody in the family remembers what happened to it after that. From some of Larry's papers, we know that DGD36301 and DGD36302 were for sale at the time as well ($2450 and $1200 respectively). The dolled up 302 had 21,120 miles on it and was in great shape. The 301 rig was in rough shape. As noted above, it had been turned into a cab & chassis for some sort of an experiment and was missing parts, though it only had 3037 miles on the clock. How do we know all this? Larry Ehlers' meticulous notes as he carefully considered these and other old test mules for purchase. Do any of these rigs still exist? Check your VINs and get back to us!