The Crazy But True Story of Amazon Renting Out My Books
By Lee Klancher
Publisher, Octane Press
Jan 30, 2020  
On the night January 29, 2020, I was tending to the data of my company's Amazon book listings, and noticed that our book,
Red Tractors
, was available to rent from Amazon.   

I was shocked, as I had not authorized this, nor was I aware of trade books being rented. I checked the rest of our 60-odd titles and found no others available to rent.
I logged into our Amazon Advantage account. Note that Amazon has many different types of Amazon selling accounts. The "Advantage" account is designed to be offered exclusively to book publishers. Also note that Amazon has a byzantine and random variety of accesses, privileges, and technology available to people in each account, so my Amazon Advantage account and another one could be completely different at least in terms of capabilites.
On our Advantage Account, we can contact Amazon via either opening a case and typing in our concern, or requesting a phone call. The calls are generally very quick, but the operators vary wildly in quality of service. 
In this case, since it was late, I opted to open a case log and requested that Amazon remove the rental, as I had not authorized it (!!!). 
Amazon replied with the note below, suggesting I contact the copyright division to address this issue.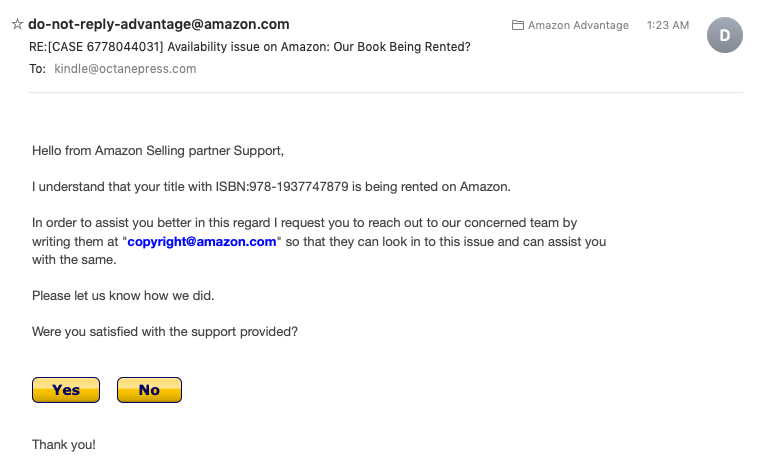 The copyright division at Amazon is essentially the Kiss of Death. I had dealt with Amazon's copyright infringement 'bots in the past. A company was selling tin signs that had one of our calendar covers printed on the front, and had no permission to do so. The image and the cover are copyrighted, so I pursued them. It took weeks of annoying, repetitive emails to Amazon--and some skullduggery with the vendors--to get that stupid sign removed. I also believe this was a waste of time or at the least self-indulgent, as who in their right mind wants a tin sign with a calendar cover on it? 
No matter. I sent my "Mystery Rental" complaint on to the copyright at Amazon email, with ISBNs, screengrabs, links, and a promise of my first-born if I received a coherent answer. The Amazon's 'bots responsed that what I sent was "incomplete."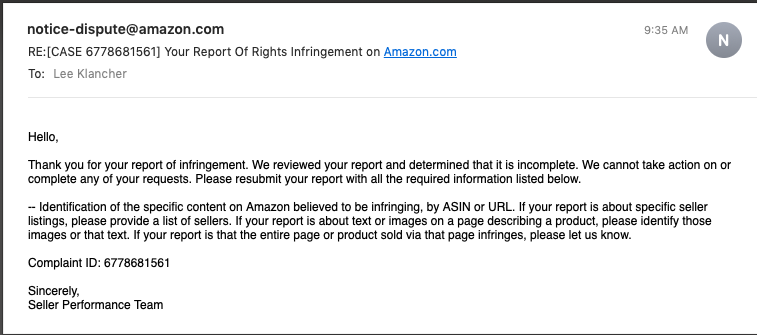 I resent my original email three times, and was given that same canned response until Amazon finally declined to help at all with this equally canned (and largely irrelevant) response.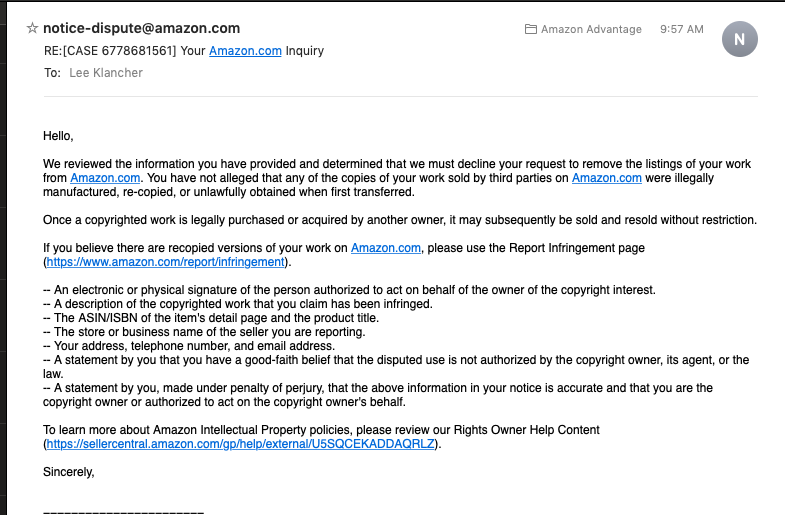 So then I requested a call from Amazon through our Advantage account.   
On the call, the representative told me that he believed the rented book was owned by Amazon, and rented from them. He said that he thought this was because I had copies of the book selling via an Amazon Seller Account and used Fulfillment by Amazon (FBA).
This is true—we have both Amazon Advantage Accounts (in which Amazon sets the selling price and determines stock levels) and Amazon Seller Accounts (which we set the price and we determine stock levels). We have used the seller account in the past to control pricing and, particularly with hot titles, to make sure there is sufficient stock at Amazon. We also use Fulfillment by Amazon (FBA), which means for our Seller Account, Amazon holds our stock in their warehouse and ships to customers. They charge us a fee to do this. We use that rather than fulfil with our warehouse because it requires less manual entry, and Amazon is great with quck shipping.
Note that for our Amazon Advantage account, Amazon warehouses and ships the books, but does not charge for it.   
Anyway, in the case of the rental, the Amazon rep speculated—and admitted he was speculating—that the way our Red Tractors book was put in the the rental program was as follows:
At some point, one of our copies of Red Tractors was misplaced, damaged, or returned, and Amazon compensated us for that (this didn't happen with Red Tractors--I checked later).
At some later point, that copy was found, at which time, he said, Amazon owned the stock as they had compensated our company for it (huh?????). 
He said this gave Amazon the right to rent the book, as it is their property (!!!!)
He said there was no way to rectify this.
I was stunned. It was clear this guy could not help me, so I tried to at least get a message across:
I insisted he pass on to his superiors that this was likely illegal, and would be pursued.
He stated that the Amazon Seller Account is an entirely different division, and he had no way to do anything about what they do, communicate with them, or help.
He said this several times in response to me stating #1 several times.
This wasn't helpful for either of us. 
So I looked at our Amazon Seller Central account, and we had sold a half-dozen or so copies of
Red Tractors
on our seller platform, it was out of stock and we had closed the listing. The last recorded sale of that book was in September 2019 (note the book sold well through our Amazon Advantage Account). See the inactive listing below. Note timestamp 12/06--that was when the listing had been made inactive (and note it was selling well thorugh our Amazon Advantage account, so we didn't need it active in the Seller Account). 

More interestingly, I looked at Inventory adjustments for the past 12 months. No inventory adjustments were made regarding
Red Tractors
. See below.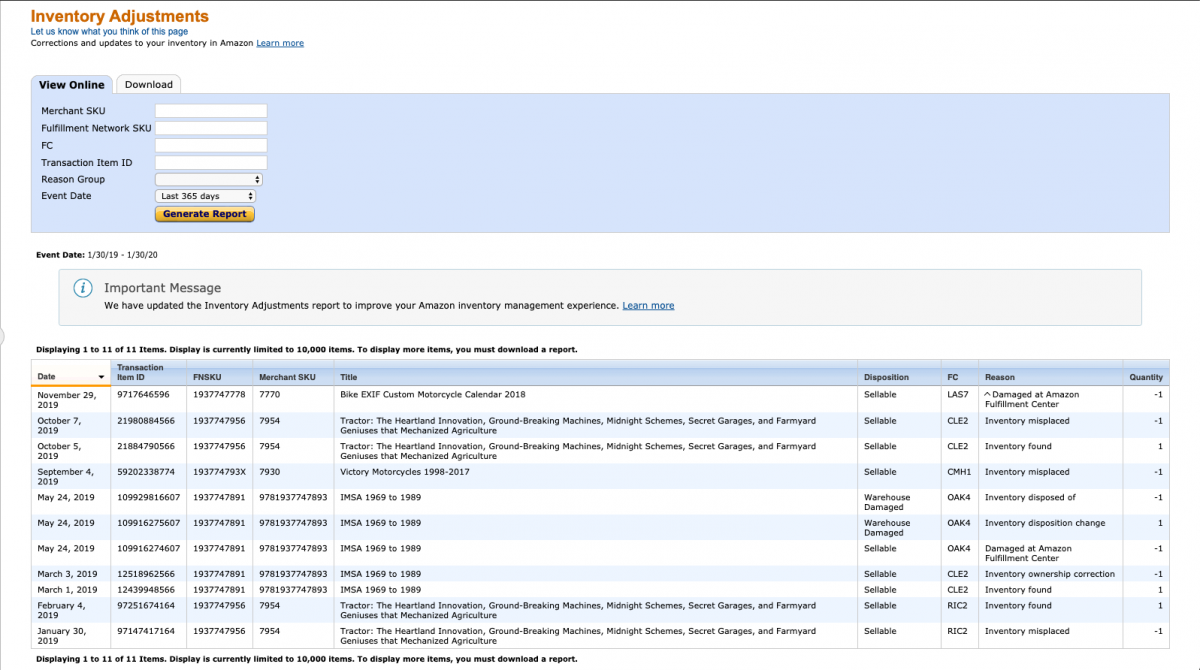 I also looked at FBA returns, which seemed to directly address the issue the rep brought up, and no copies of
Red Tractors
showed up there either.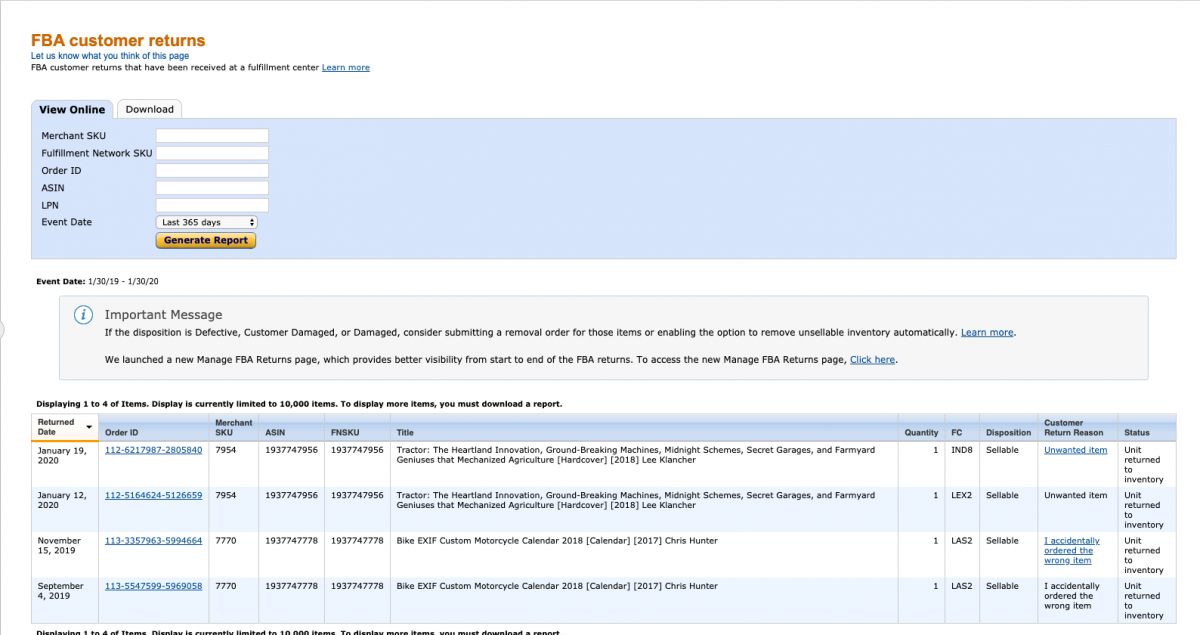 I then dug around and found the Amazon agreements. (
Help
 / 
Getting started with Fulfillment by Amazon (FBA)
 / 
FBA policies and requirements)
Reading the Amazon FBA Policies, I found the statement below. The yellow highlighted clause (sort of) indicates Amazon owns damaged books after it pays the publisher for them.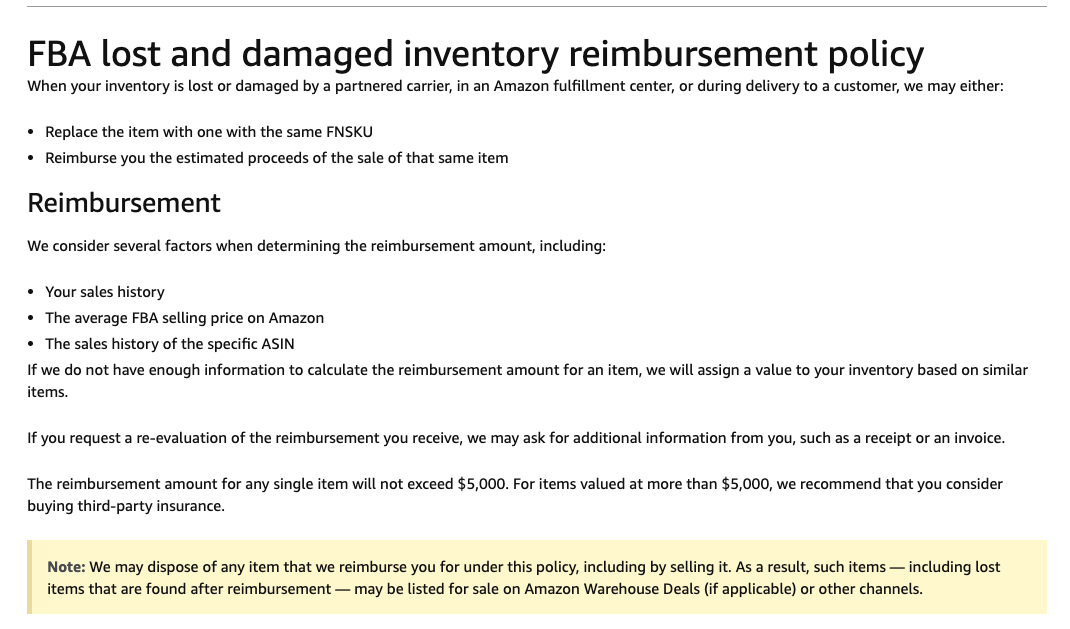 I decided Amazon would be no help and, as I have done many times with Amazon in the past, I found a way to solve the problem.  
As an example, when I have trouble with a third-party seller scammer taking the buy box for one of my books with low prices, I simply purchased all the inventory they had available and then got my listing back in the buy button position. In two cases, the books that I purchased—one an order of one book and another an order of ten books—showed up at my door damaged. In both cases, I informed the vendor, and my money was refunded.  
In the case of the Mystery Rental, I figured the rental company (Amazon?) had only a few copies of the book, so I rented the book from Amazon.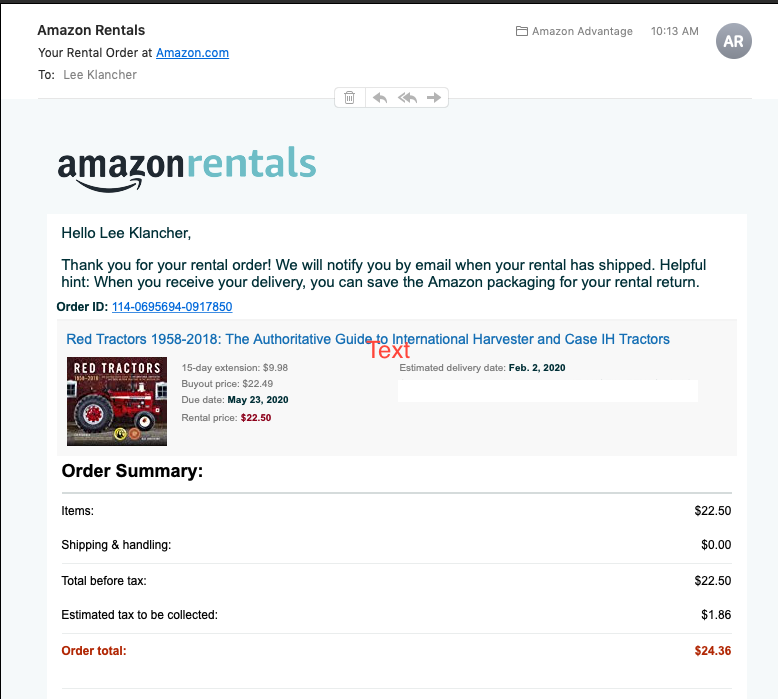 After I rented the book, I checked the Amazon page for the book and the rental still appeared as an options. I figured I would go back in a few hours and, if another copy was available,  
Oddly enough, another Amazon rep called me a few minutes later. While on the phone with him, I went to the Red Tractors Amazon page, and the rental was gone.
As of this moment, I'll wait for the rental copy to deliver and evaluate it's condition. I will most likely purchase it to keep it out of circulation. I'm curious to see if I get paid for that purchase, or for the rental! 
I also pulled all of our stock on our Seller Account out of FBA—we had five other titles with copies in stock in the program. I have shut off all of our Amazon Seller listings, and will most likely have our books sold only through our Amazon Advantage account.    
I'll update this page with results.