Binders In Uniform
Scouts in Government Service
Friday, October 2, 2020 - 09:15

Enthusiasts will learn all there is to know about Scouts in the revised edition of the International Scout Encyclopedia. This book gives the only Scout book you'll ever need a shelf-mate! The companion edition features new information on the most collectible trucks, a new section identifying all the appliqués offered, an expanded index, and tweaks and updates throughout.
This blog salutes the Scouts that served in the United States military. Of course, vehicles are nothing without people, so we also salute the Soldiers, Sailors, Airmen and Marines who used them.

Scout 80 Drafted
The first batch of military Scouts we found in our research was announced in 1962 and that appears to be the first large scale sale of military Scouts. It was an order for 518 units and from the known serial numbers, they all appear to have been early 1963 model year Scouts. They were a standard Scout 80 Travel-Top with sliding windows in a single special color, a glossy military green (we don't have the code for this batch). From the standard parts bin, they were equipped with  4.27:1 axle ratios in open diffs, Warn locking hubs, lighters (smoke 'em if you got 'em!), heater and defroster... plus most of the usual small stuff. On the Special Equipment list ("SE" codes) were an SE coded engine (12095-9605, we don't know why it was SE- that code fits several engines), front tow hooks (01570), a rear pintle hook (01592), rear bumperettes (01596- basically a standard bumper split in two with a section out of the middle for the pintle hook), brush guard (09596- basically the same optional unit available on civvy Scouts), magnetic oil drain plugs in the front axle, engine, transmission, transfer case and rear axle, special high capacity battery (08512), military trailer electrical plug (08530), radio suppressed ignition (08595),  plus the military nomenclature plates (10575), registration lettering (10585), special 6-inch mirrors (81630), seat belt anchors and more.  Production started in November of 1962 and the order was complete early the following year.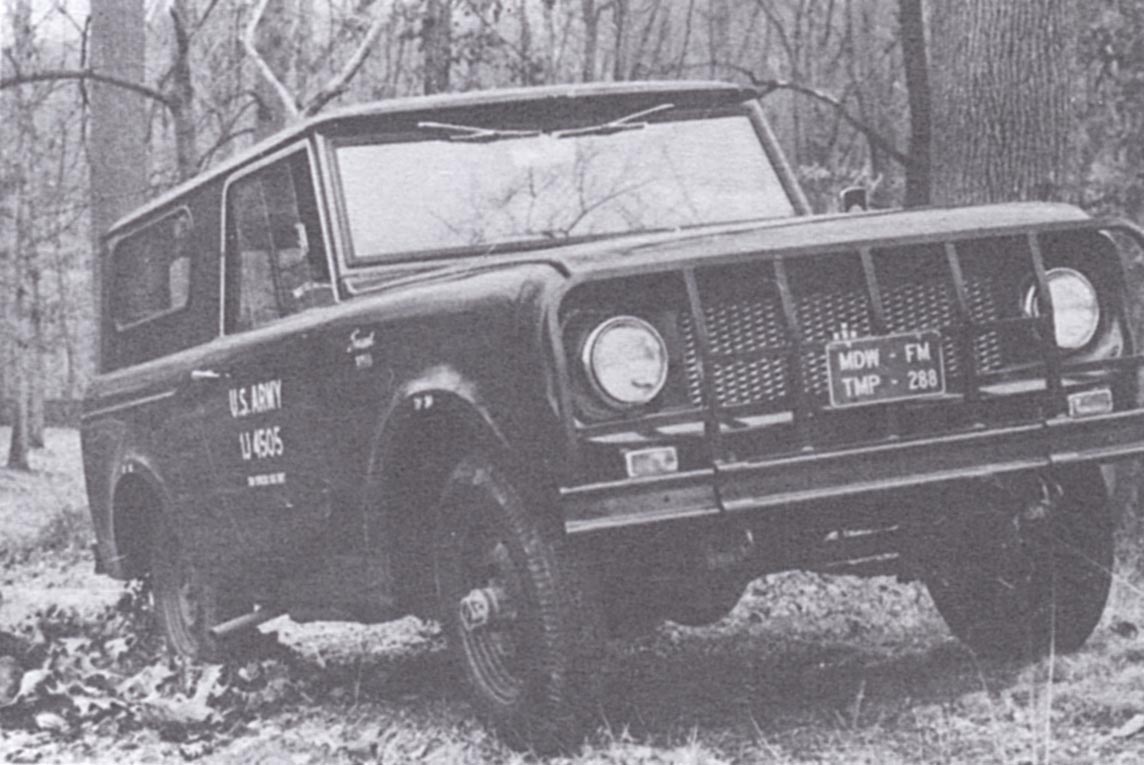 Of the 518 Scouts from that first batch of 518, we know of no survivors. We have one LST from that batch, possibly the 211th of the batch built in mid-November. We also have this  image on one, collected by Fred Crismon, and now in the George Kirkham collection.  Crismon described this as a vehicle used at Fort Myer, Virginia, and the "FM" on the license plate bears that out. courtesy George Kirkham
We found a batch of 181 Scout 80s built in  June of 1964 for the Air Force. They were painted an Air Force blue, had bucket seats and a rear seat, and most of the same equipment listed as with the Army order from a year earlier.  For 1965, we see another batch of Scout 80s, 334 this time, outfitted largely the same as the others. These appear to be all for the U.S. Army and have largely the same equipment as the others. All the Scout 80s we've seen were ordered with 6.00-16 tires with "on and off-road" tread like the Goodyear Suburbanite. This image shows a Scout from the '65 batch. On some of the LSTs, there are notations about how pictures of the individual vehicles were required to be turned in with the paperwork of each vehicle. We don't know if this was common throughout the production of government Scouts. You can see this rig was been used some... the bent front bumper and the non-matching front tires.  courtesy George Kirkham
 
The 800 in Service
The next batch we found came in November of 1968 and were Scout 800s... and Roadsters with canvas tops, no less. These were right at the last of 800 production just before the 800A started up. The order was for 268 units. The agency they were ordered under is not listed but we suspect they were paid for under MDAP (Mutual Defense Assistance Program), a program where military products were supplied to nations who we were assisting in military conflict. We can't confirm it, but this order reeks of Southeast Asia... Vietnam War. They also had the fold-down windshield option and an omit heater-defroster code. Undercoating by Ziebart was specified. We really wish we had some pictures of these!
There seems to have been large batches of 800A Scouts built for government/military service. Several survivors have shown up but there are also many pictures out and about of 800A Scouts in all branches of the service, painted Navy Gray, Air Force Blue and various shaded of green. In this era, Southeast Asia was the focus so more than a few are seen in pictures from the Vietnam War.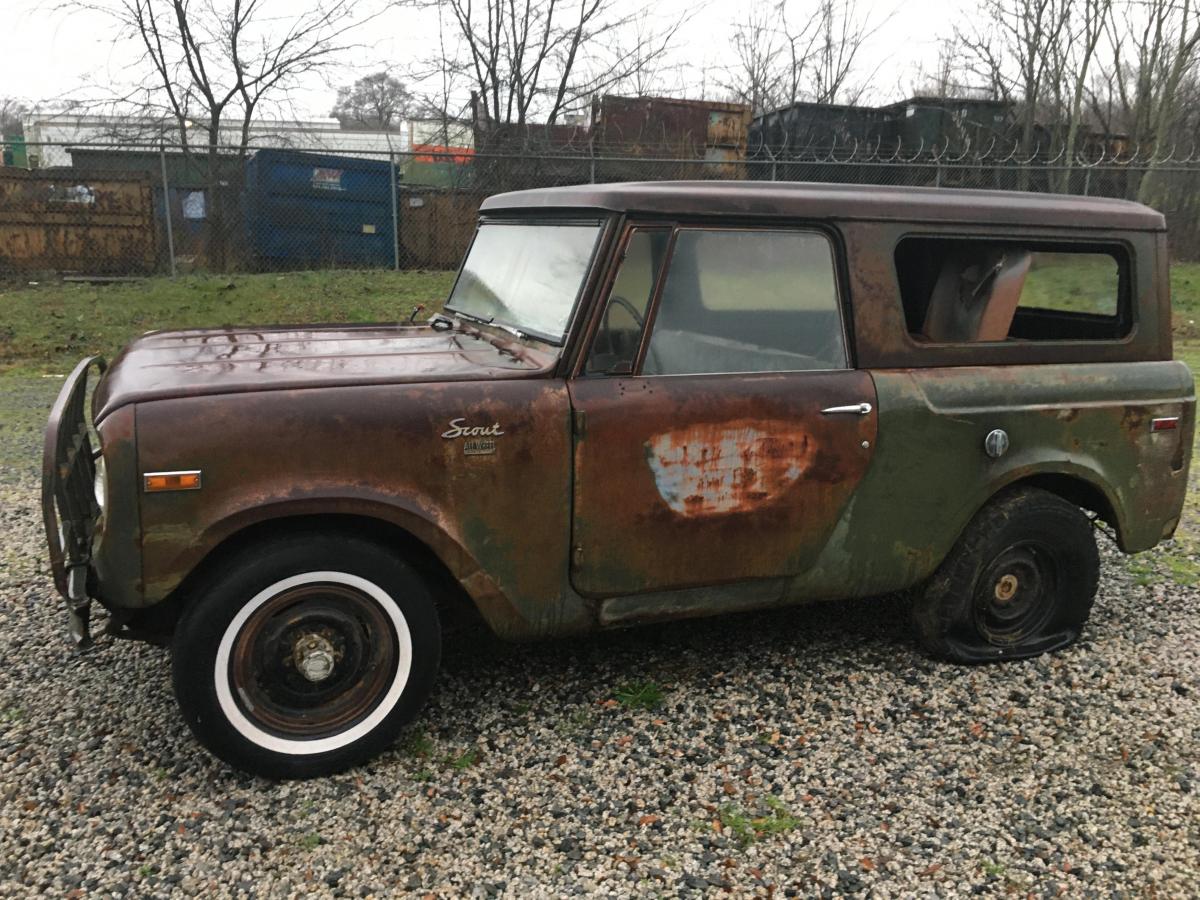 This is a 1970 Scout 800A used by the Marine Corps and now owned by Sam Myers. It lists the U.S. Army as the ordering body but it ended up in USMC livery. It was in a batch of 11 ordered and what's most interesting is that it has a very close brother that was built the same day but in a batch of 223 that did indeed go to the U.S. Army. It's a standard 800A with a 196 ci four-cylinder and three speed manual. It has the standard military accoutrements for the era, namely the pintle hitch and split bumper, military trailer connector, brush guard, dual outside mirrors and so on. Paint was listed as 5375GN, the common military glossy green. courtesy Sam Myers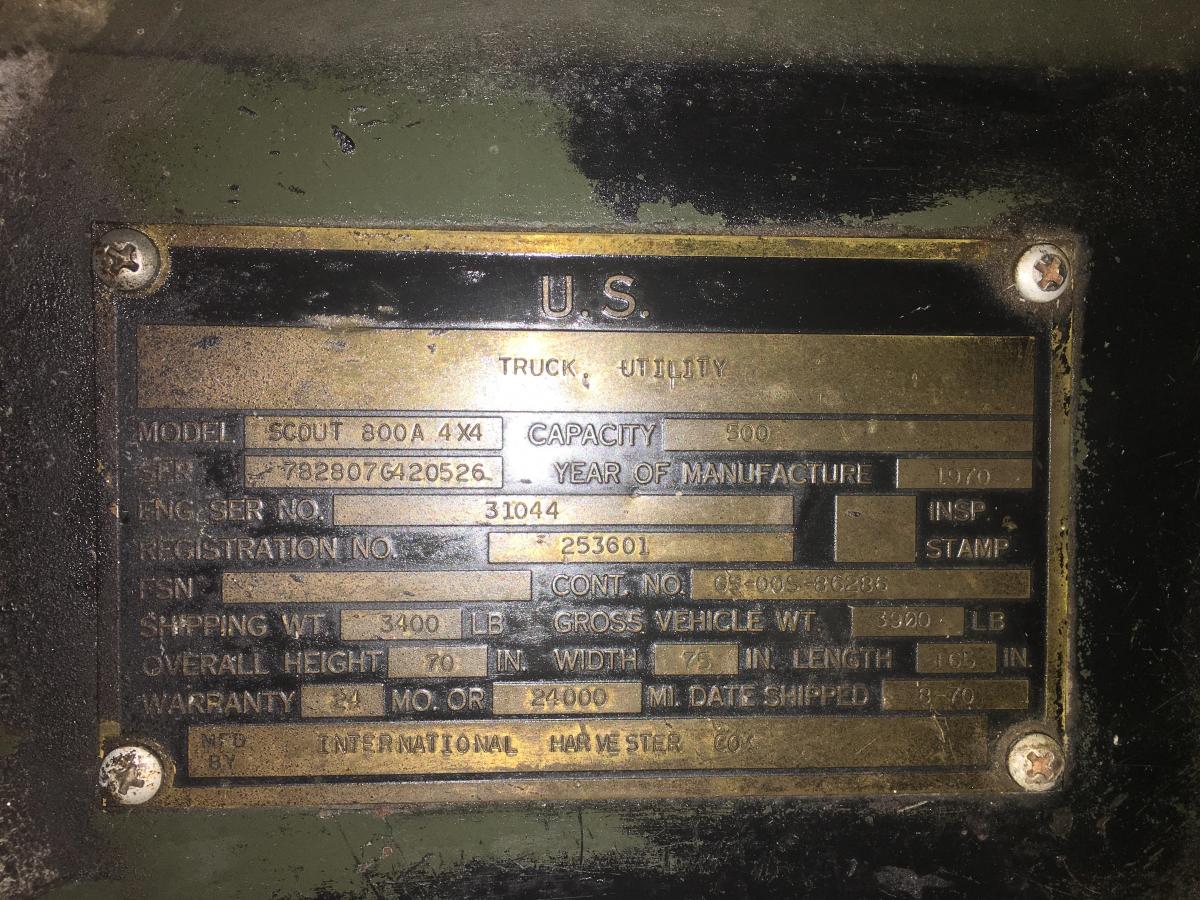 Here are military data plates from two Scouts that rolled down the line within sight of each other, 20 vehicles apart, both marked for the U.S. Army. One went to the Marines, however, and you can see the difference in the data plates. Both have the same contract number and are only 18 units apart in VIN numbers. The Army one lists it with reg number as 01M09070. The Marine rig is 253601. Both of the actual vehicles still wear their reg numbers. The Army rig is currently buried in a barn, so we couldn't get pictures of the whole vehicle. Marine tag courtesy Sam Myers
Scout II Showing the Flag
When it comes to the Scout II, there were quite a number ordered early on but we have not researched the extent of Scout II military use in later years.  We found a batch of 80 built in July of 1971. We've turned up evidence of three from this batch and one survivor... though it bears little resemblance to it's original state.  As before, the equipment list included the everpresent pintle hitch, magnetic drain plugs, 7-way trailer socket, 6-inch mirrors and brush guard, plus all the military marking, decals and labels.  The paint listed was 5375GN, a special color but not one for which we can find a chip.  The batch was equipped with 196 ci fours , the standard T-14 3-speed and 4.27:1 axles with open diffs From the standard options list were bucket seats, rear seat, sliding rear windows and 6.85-15 4-ply mud and snow tires.
 Derrick Lathem's '71 Scout is a sibling to the Military Police Scout pictured nearby. It bears little resemblance to when it served in the military, but there is no doubt it's an old soldier. It comes from a batch of 80 and we know some of the VINs and some of the military registration numbers so we can connect them to that batch.courtesy Derrick Lathem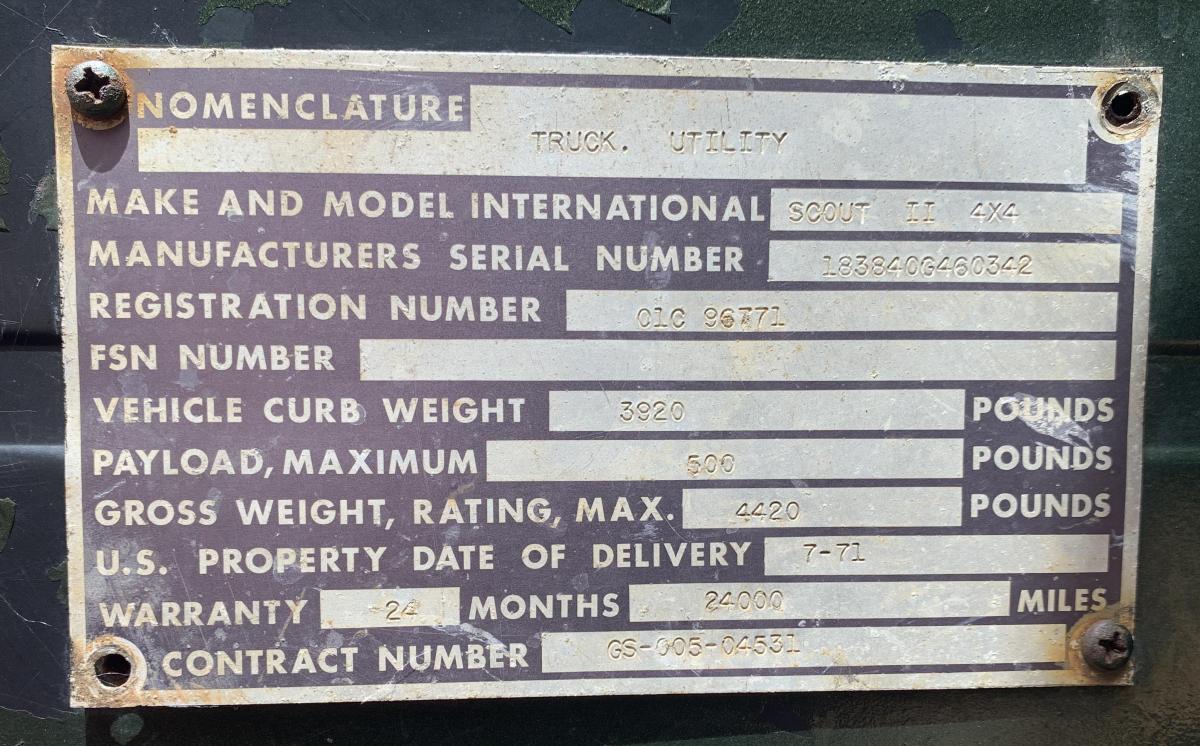 The military Data Tag on Lathem's Scout bears out it's original life as a U.S. Army vehicle. Note the registration number of 01C-99277.courtesy Derrick Lathem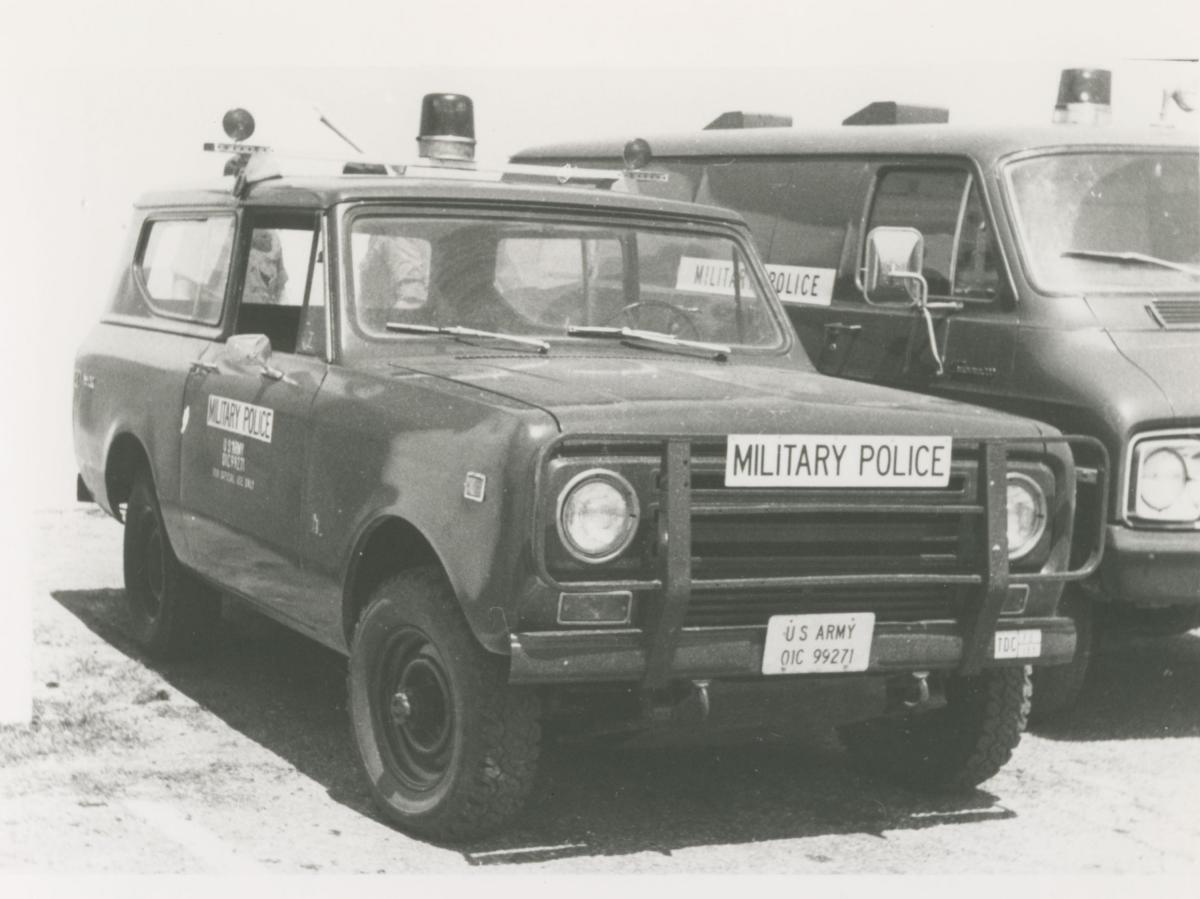 Here is a 1971 Scout that rolled down the line just a few units away from Lathem's Scout pictured nearby. This shot was taken in 1979 by Fred Crismon. Note the reg number on the plate and door of 01C-99271.  In every case we've seen the reg numbers are in sequence with the VIN number of the vehicles as they were built. We'd guess this Scout, if it still exists, would have a VIN of G460348, give or take a fifth sequential digit or two. courtesy George Kirkham
We also found a later production batch of  three '71s that were equipped as patrol vehicles and shipped to the Medford, Oregon, Federal Interagency  Motor Pool. We don't know exactly how they were used but their the paint, a CT399 special color, 5032GN, is a dead ringer for Forest Service green. These were more conventional Scouts, with 304 V8s and automatic transmissions. They had a few SE cods, including the ubiquitous 6-inch mirrors and labels. They also mounted 6.00-16, 6-ply mud and snow tires.

One of the more interesting military Scouts We've run across is owned by the Warfle family and, for a while at least, it can be seen at the Super Scout Specialists Museum at Enon, Ohio ( www.superscoutspecialists.com). It's one of a batch of 65 two-wheel drive Scouts IIs ordered for the U.S. Army. If that isn't unusual enough, they oredered them with 304ci V8s backed up by the T-14 3-speed and 3.73:1 axle ratios.  It has all the military gear, pintle hitch, tow hooks, brush guard (missing), 6-inch mirrors, magnetic drain plugs, etc. It was painted the standard non-tactical glossy green (5375GN). The Warfle rig is almost unaltered from its military service, having been bought at a surplus sale in Michigan in 1989 and stored until just a few years ago. It's a real time capsule and unlike most military rigs sold surplus, we know something about it's service... at least the latter part of it. The Warfles discovered paperwork left behind in the truck indicating it was used by Company C of the 67th Signal Batallion at Fort Gordon, Georgia. Apparantly it was used by the "cable platoon."  The 67th is still active and still at Fort Gordon. We reached out to them but have not yet gotten an answer back... not that anyone from those long ago days would still be there to remember.