Anatomy Of An IH Vehicle Appraisal
Wednesday, September 2, 2020 - 08:30

​Enthusiasts will learn all there is to know about Scouts in the revised edition of the International Scout Encyclopedia. This book gives the only Scout book you'll ever need a shelf-mate! The companion edition features new information on the most collectible trucks, a new section identifying all the appliqués offered, an expanded index, and tweaks and updates throughout. 

There is only one way to protect your investment – get it professionally appraised!
Appraising a classic or customized vehicle can be a very intense process.  It involves deciphering, documenting and photographing every facet of the vehicle. The best way to start is by establishing the overall condition and checking for originality.  Next, confirm and document the known history of the vehicle, its prior owners and provenance, plus  any awards the vehicle has earned in the collector community.
Many classic and antique automobile insurance companies require appraisals to establish proper insurance coverage in case of a claim or loss of the vehicle. Vintage trucks and SUVs are no exception as they are gaining popularity these days. IH vehicles, including Scouts, are no exception.  Getting good insurance coverage could be especially important if you have made a big investment into the restoration or acquisition of the vehicle.
Other reasons for appraisals include establishing a value to buy or to sell your IH vehicle. No one wants to pay too much or receive too little for their investment, so an appraisal can help in many ways. Most appraisals are not free and there is a fee for taking the time to do a thorough appraisal. Some antique car appraisers charge as much as $400 for an appraisal and add for extras such as diminished value, prior to loss and insurance-dispute types of appraisals.  
Like many appraisers,  I do most appraisals online. This requires the customer to fill out an online form and email detailed photos, or they send a video or video link. I keep the photo(s) on file so if an insurance company has a question, I can refer to the photos on file and be as accurate regarding my opinion of the vehicle's condition and value as I can.
Here is the scale I use to assess vehicle condition. The values and prices in this guide are from compilations of regional and national data by the Appraisal Department at Super Scout Specialists, Inc. Sources include several different classic, collectible and special interest books, appraisal guides and comps from the seller's market across the USA and Canada. Prices are listed in six different categories of conditions:
1) Excellent: A restored vehicle to current professional standards of quality in all areas; or original with all components appearing and operating as new (or unrestored, untouched original in showroom condition).
2) Fine: A well-restored vehicle; or combination of a super restoration and excellent original; extremely well maintained original showing minimal wear and tear.
3) Very Good: A completely operable Vehicle or older restoration showing wear and tear, or non-professional restoration; all presentable and serviceable inside and out. Also, combination of well-done restoration and good operable components; or partly restored Vehicle with all parts to complete and/or valuable new old stock parts.
4) Good: A drivable vehicle needing no or minor work to be functional; or a deteriorated restoration; or extremely poor non-professional restoration. All components may need restoration to be Excellent, but mostly usable "as is".
5) Restorable: Vehicle needs complete restoration of body, chassis,  and interior. May not be drivable or running but is not weathered, wrecked, or stripped to a parts vehicle status. May have surface or some rust through; but will not require a lot of replacement parts.
6) Parts Vehicle: May or may not be running, but is weathered, wrecked, and/or stripped to the point of a parts vehicle. Vehicle is incomplete or greatly deteriorated, rusty, may only be good for parts for another IH vehicle.
Different circumstances such as extremely low miles or a vehicle being built (properly) for show from the ground up may drive the vehicle value much higher.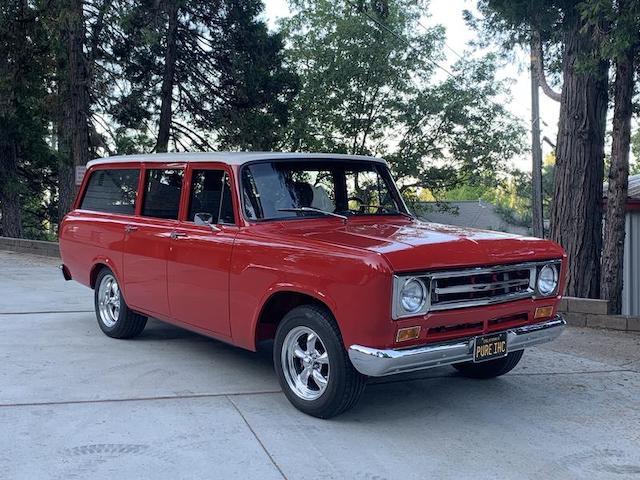 The IH vehicle pictured is an example of a purely custom vehicle built with so many modifications it took 13 years to restore and build, and continues to be improved upon to this day. Most appraisals are done on a single page but this multi-award winning Travelall's appraisal was so extremely detailed it turned out to be three pages long. It cannot be stressed enough that the more information and details provided the higher the appraisal value could be.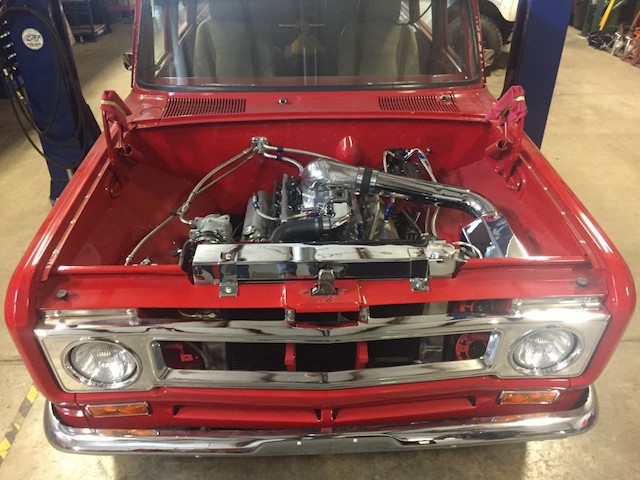 This Red Travelall was a project built and engineered by our friends at IHPA of Grass Valley, California. It is was one of a very few to appraise at a higher six digit dollar value range. IH vehicle values are on the rise.  International Harvester-made vehicles have the interest of many collectors today, including the modified clasess.  Builds like this Travelall are becoming more common as time goes on and can be done for any price depending your budget. Always remember you get what you pay for and the final value of the vehicle can depend on what the shop you are dealing with is capable of accomplishing with your money. Not to forget the do-it-your-selfers, that also depends on your means, ability, time and having the proper shop and tools for your project. 

A custom IH vehicle or painstaking nut and bolt restoration appraisal must also consider exactly who performed the work on the vehicle. Most of these vehicles are rolling pieces of art and their value can depend largely on the various artists that are commissioned to work on them.  As with any vehicle, the accolades that vehicle has earned — awards, trophies, magazine covers and features, promotional advertising, even television exposure — can greatly affect its value. For example, a recently performed  appraisal on an awarding winning IH Travelall valued it at $300k.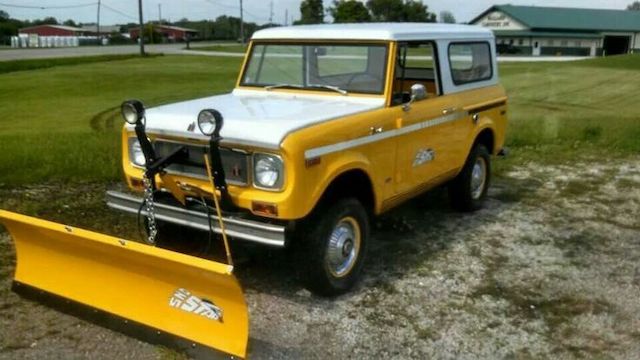 A restored to stock example of a fine IH vehicle. A simple Appraisal like the one done on this 1971 Scout Snowstar can still be in the higher dollar value bracket due to its rareness as long as the minimum amount of information and detail is provided. Building an International Harvester vehicle to stock or factory specs is also of interest to many collectors these days and can be more difficult depending on the model due to the rarity of parts on certain models. Here is an example of the information required for this Scout:
Make: IH   Model: Scout 800B   Year: 1971   Build Date: 1-8-71
Vin # : 884817G426XXX   Engine: 232 Cu In 6Cyl.
Trans : BW T39 Auto Trans   Transfer Case : Dana 20
Axles: D44, D30    Color: Yellow, Black, & White  "Sno Star" Package
Condition: Total Restoration
Factory Equipment: "Sno Star" Package, 52A alt, optional HD springs  limited slip diff, dual electric horns, dual fuel tanks, rear seat (list other equipment)
Improvements: (List as much as possible, this is where stock vehicles can list any improvements and custom vehicles should list any modifications, updates, performance engineering etc..)
Owners Comments: (List what was done and by who, list awards and other like things that will help establish the value. )
This is a very high-quality restoration on a rare Scout. This was a "Frame Off" resto that was complete.
Parts costs were $13,537.81
Labor cost were $30,000.00
Total expense: $43,537.81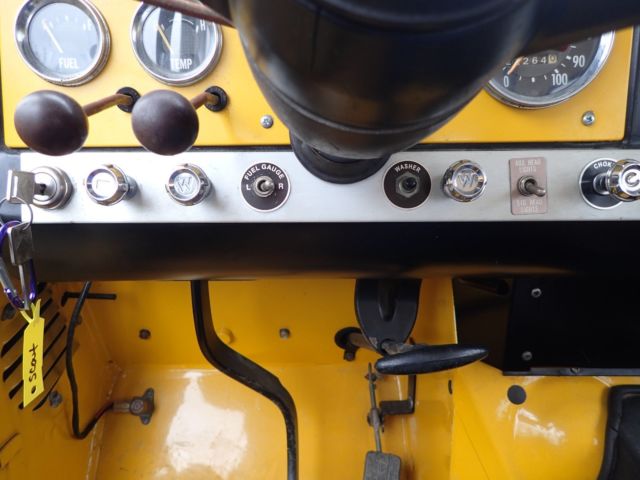 Details, details and more details will lead to a more precise value. Detailed and focused pictures are very important to establish the condition of the vehicle and may also show options not described or missed by the vehicles owner. In general Scouts have more parts available for restoration than other International Harvester vehicles, making them a little easier to restore than the others. Finding good sheet metal can be a challenge for all IH vehicles but not impossible. 

The owner should gather all the information he can, because the appraiser can only go by what info is provided by the customer. The more info provided, the more detailed a customer can get should result in a higher value.  IH vehicles are lucky to have LSTs (Line Setting Ticket, A.K.A. factory build sheets) available which can help provide needed specs, options and equipment on the vehicle being appraised. On a stock vehicle, for example, the LST may tell whether the vehicle has a chrome bumper or painted bumper, standard or deluxe trim packages for interior or exterior.  The chrome bumper or deluxe packages would add higher value to the appraisal.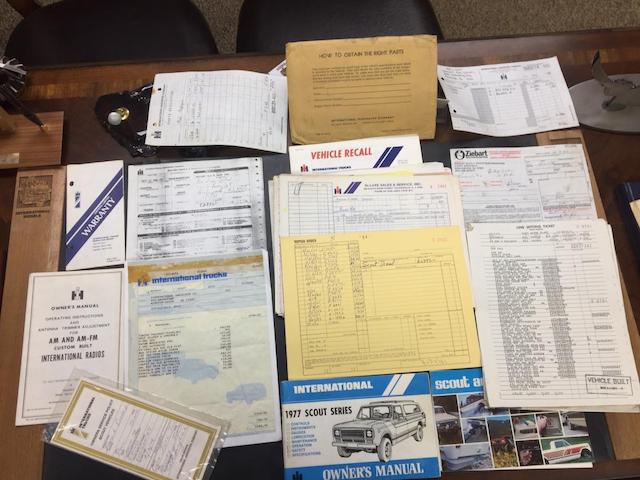 Most of this documentation could be helpful for an appraisal and may be found in the glove box or kept in a file by the owner.  These papers may include items that came with the original vehicle purchase, such as warrantly papers, owner's service policy, deliver papers, sales invoice, Line Setting Ticket, window sticker and owner's manual. Useful papers might include invoices for repair or restoration work performed in the distant or recent past.

Next, we have customer send detailed photos or a video/video link. Nowadays all appraisals can be sent via email in a PDF format. We also like to send 2 hard copies through the mail so there is something in the hands of the owner. All copies receive the appraiser's signature and the SSS Corporate seal crimp for authenticity. Some insurance companies may require a 2nd appraisal from another vendor, and most appraisers will refer customers to other knowledgeable and reputable appraisers upon request.
Where do the appraised values come from? Over the years we have used The Standard Catalog of Light Duty Trucks or the Old Cars Weekly vehicle price guide. Those are getting outdated but are still used for referencing older IHs which haven't jumped in value yet. We monitor Hemmings Motor News, Classic Car Autotrader, Ebay Motors, other internet sites such as "Bring a Trailer" and "Barn Finds." We take references from Mecum and Barrett Jackson Auctions, plus other online auction sites that have IH vehicles pop up from time to time. We use for comparison several online classic value tools such as, NADA Classic cars, Hemmings, Hagerty, and Collector Car Market Review.  We stay in touch and consult with other IH Scout and Truck builders and sellers in this industry and all this give us a good consensus on what things are selling for and the values that are needed. This information, coupled with the vehicle's condition, whether it's stock or customized, a show piece or street machine, along with its options, improvements, accolades, are all put in the blender mix for the serving of an accurate appraisal cocktail. 
Sources: