Alaska Book in Men's Journal
Tuesday, July 31, 2012 - 10:00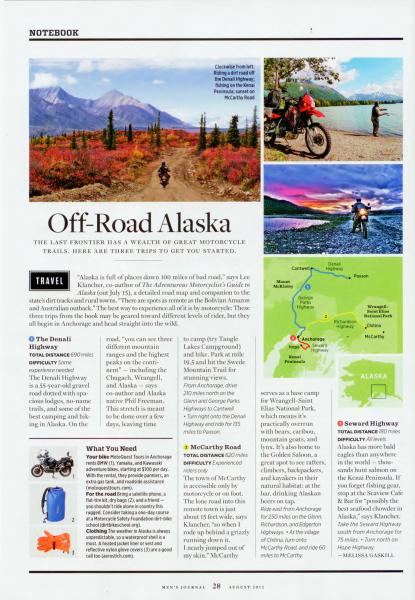 Off-Road Alaska
The last frontier has a wealth of great motorcycle trails. Here are three trips to get you started.
From Men's Journal August 2012
By Melissa Gaskill
"Alaska is full of places down 100 miles of bad road," said Lee Klancher, co-author of The Adventurous Motorcyclist's Guide to Alaska, a detailed road map and companion to the state's dirt tracks and rural towns. "There are spots as remote as the Bolivian Amazon and the Australian outback." The best way to experience all of it is by motorcycle: These three trips from the book may be geared towards different levels of rider, but they all begin in Anchorage and head straight into the wild.
1. The Denali Highway
Total Distance: 690 miles
Difficulty: Some experience needed
The Denail Highway is a 55-year-old gravel road dotted with spacious lodges, no-name trails, and some of the best camping and hiking in Alaska. On the road, "you can see three different mountain ranges and the highest peaks on the continent" — including the Chucach, Wrangell, and Alaska — says co-author and Alaska native Phil Freeman. This stretch is meant to be done over a few days, leaving time to camp (try Tangle Lakes Campground) and hike. Park at mile 19.5 and hit the Swede Mountain Trail for stunning views.
2. McCarthy Road
Total Distance: 620 miles
Difficulty: Experienced riders only
The town of McCarthy is accessible only by motorcycle or on foot. The lone road into this remote town is just about 15 feet wide, says Klancher, "so when I rode up behind a grizzly running down it, I nearly jumped out of my skin," McCarthy serves as a base camp for Wrangell-St. Elias National Park, which means it's practically overrun with bears, caribou, mountain goats, and lynx. It's also home to the Golden Saloon, a great spot to see rafters, climbers, backpackers, and kayakers in their natural habitat; at the bar, drinking Alaska beers on tap.
3. Seward Highway
Total Distance: 180 miles
Difficulty: All levels
Alaska has more bald eagles than anywhere in the world — thousands hunt salmon on the Kenai Peninsula. If you forget fishing gear, stop at the Seaview Cafe & Bar for "possibly the best seafood chowder in Alaska," says Klancher.