1970 IH 826 Hydro
Long Days Pay Off
Tuesday, August 23, 2016 - 01:00

Photographer and author Lee Klancher shot the February image for the Farmall Calendar 2017. Here he shares some insights into the process by which he brings these impressive farm machines to life.
ABOUT THE TRACTOR
In 1970, International Harvester was fighting hard to regain the number one slot in the industry. Under the leadership of Harry Bercher in the mid-1960s, the company continued to invest in new technology while flogging the sales team mercilessly. One of the features the company believed in strongly was the hydrostatic transmission, which allowed infinitely variable speed control. That first appeared on mid-sized IH tractors in the mid-1960s, and the debut on the big machines was the 826 Hydro and 1026 Hydro, both of which were announced in November 1969. The feature was expensive and reduced horsepower in the 826 by 8 percent, with the gear-drive model rated for 92 horsepower while the hydro made only 84. This diesel hydro is owned by Larry Jorgensen of Trent, South Dakota. The tractor is equipped with front and rear weights, Fast Hitch, and an aftermarket toolbox on the fender.​
(more on the long day spent making this photograph is available after some more images of Larry's minty fresh 826 . . . )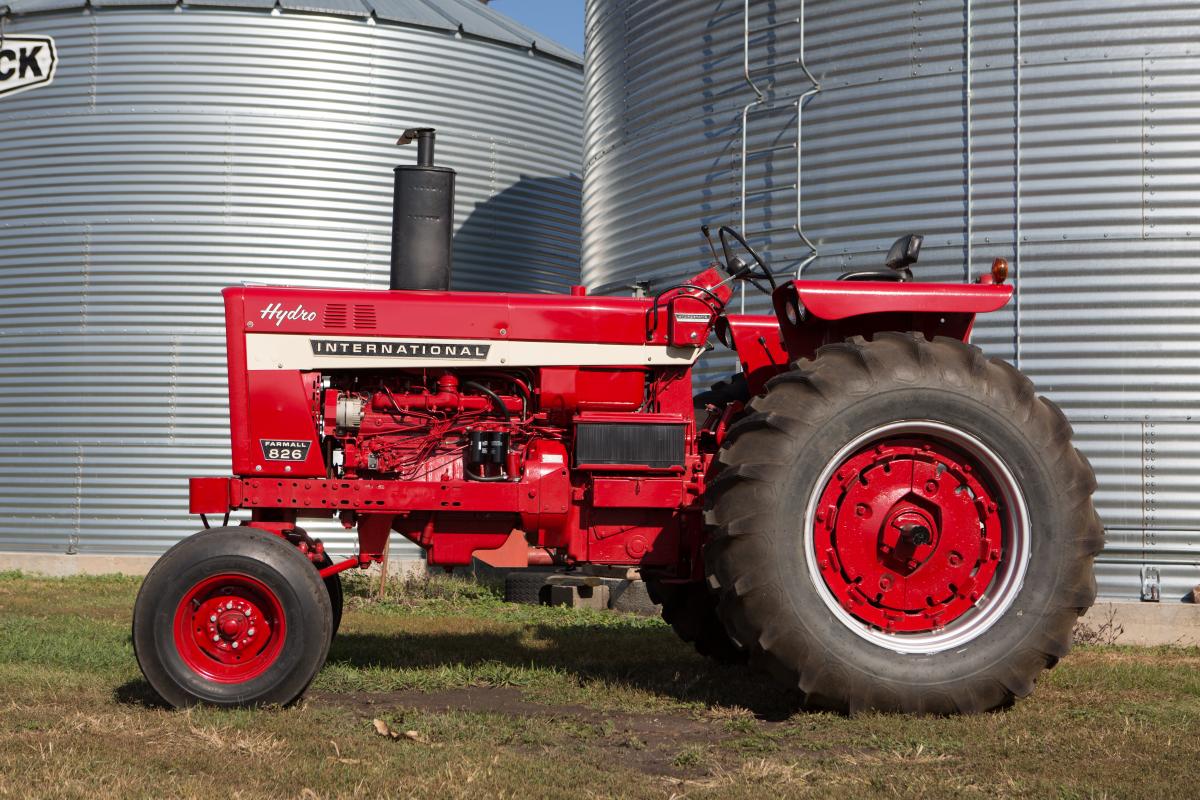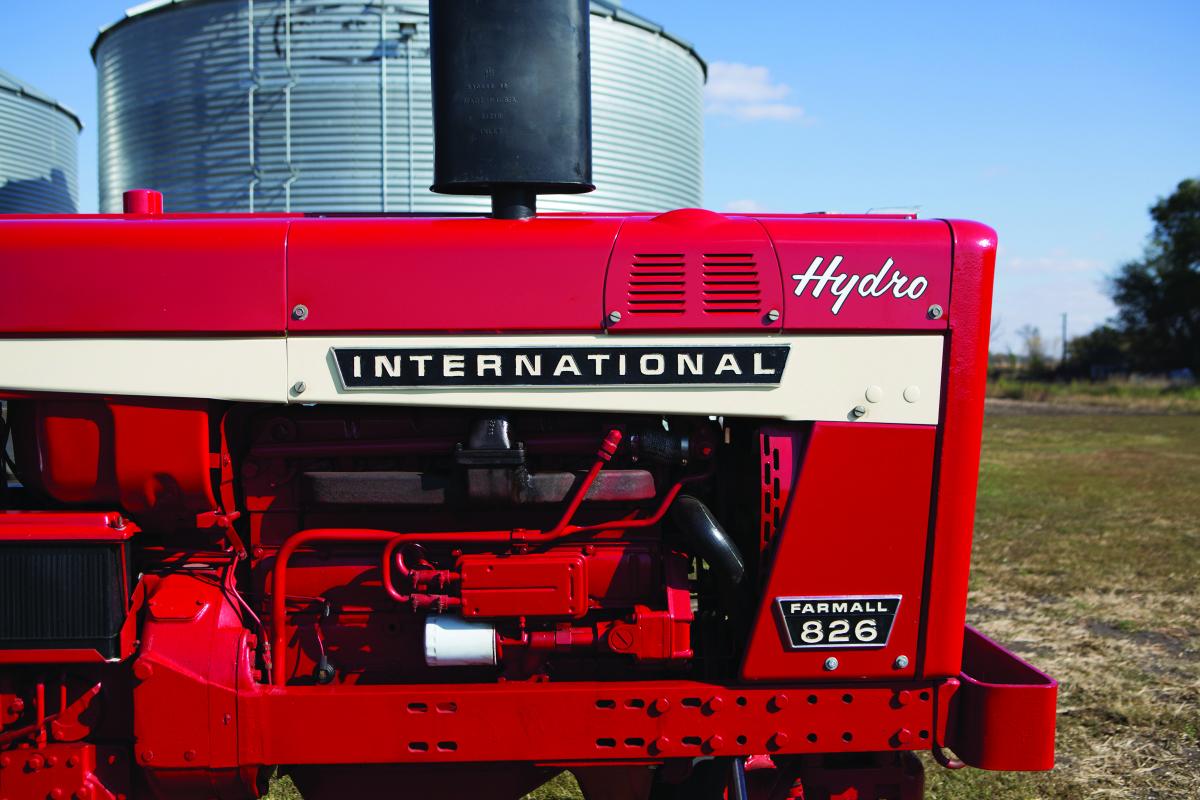 BEHIND THE PHOTOGRAPH
So these images were shot on October 16, 2013 in the middle of the day.  Wow, how time flies.  
That road trip was taken to Fargo, North Dakota. I was there to interview some of the early members of the Steiger company, as Earl Christianson, in particular, was not in perfect health and I wanted to speak with him while he was still sharp. Ironically, I'm working on this material today (Aug 2016), getting ready to put together a new book on Steiger, IH, Case, and Case IH four-wheel-drive tractors. 
This image of Larry's tractor is one of speed and efficiency. I was on a three-week road trip, and Larry was scheduled near the end and between two big shoots. I hit his place in the mid-day, and Larry was awesome in that he had the tractor and his Mustang perfectly polished and ready to roll. I shot very quickly, and used the grain bins as a backdrop. The light was kind of harsh, but the machinery was really sharp. Larry brought out his 1970 Mustang, which matches pretty nicely with the tractor, and we took a few photographs. After that, back in the rental car and off I went. The film has been in the tank since October 2013, and this year, Larry's 826 fit in nicely into the calendar.
Below is the last photo from that shoot. More after the jump . . .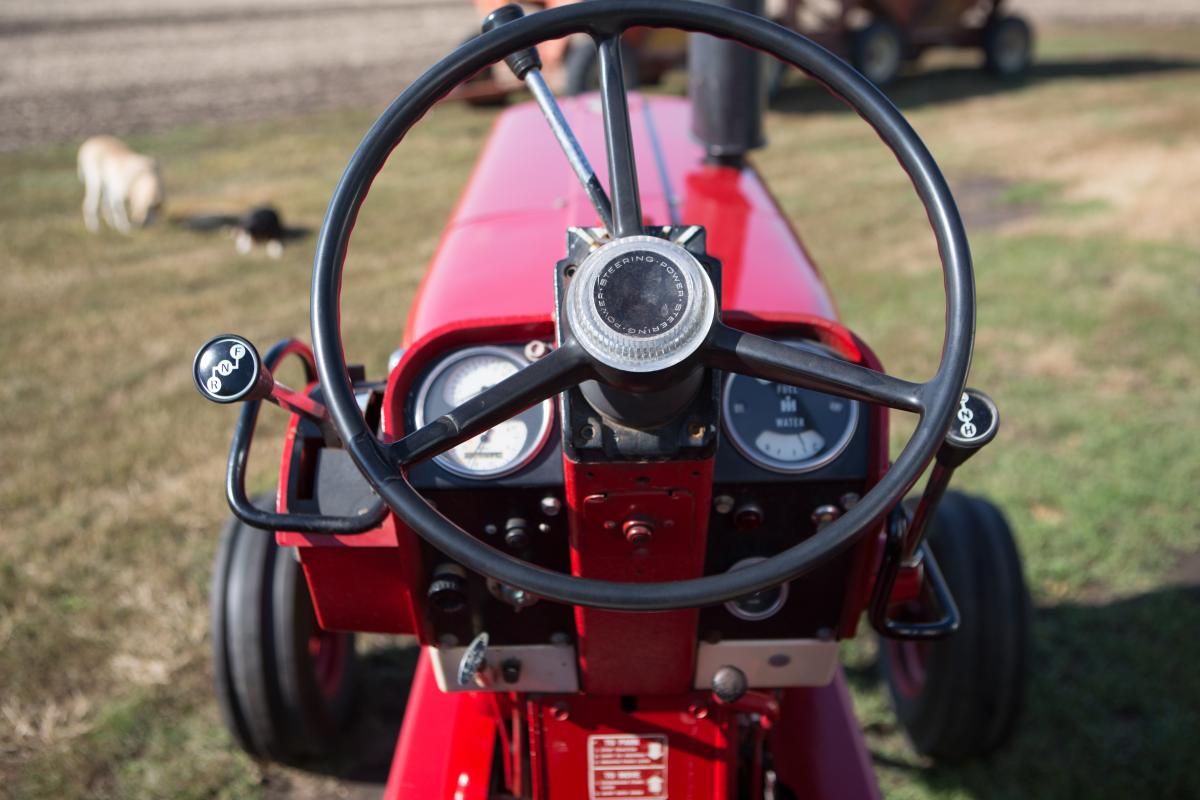 I was digging back through my images from that trip. I ran it pretty hard, and can see why I didn't stick around at Larry's place all that long.
I sorted my shoot by timestamp. Seems I had a pretty good couple of days. I shot the last photo at Larry's on October 16, 2013 at 12:42 pm.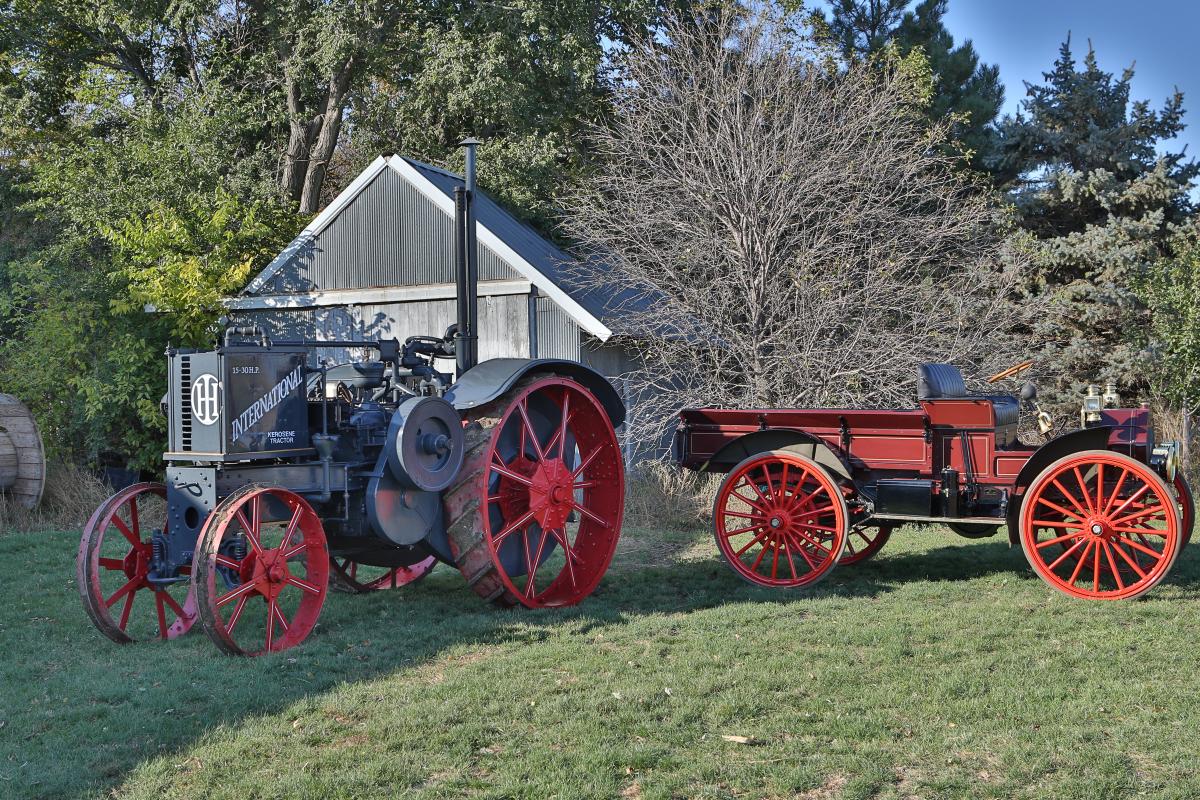 The next photo I took was this one of Jason Sweeter's Mogul and Autowagon, which is 47 miles away from Larry's place. I remember talking to Jason on the cell phone en route, encouraging him to get his machines set up. The first one in this series was shot at 1:59 p.m.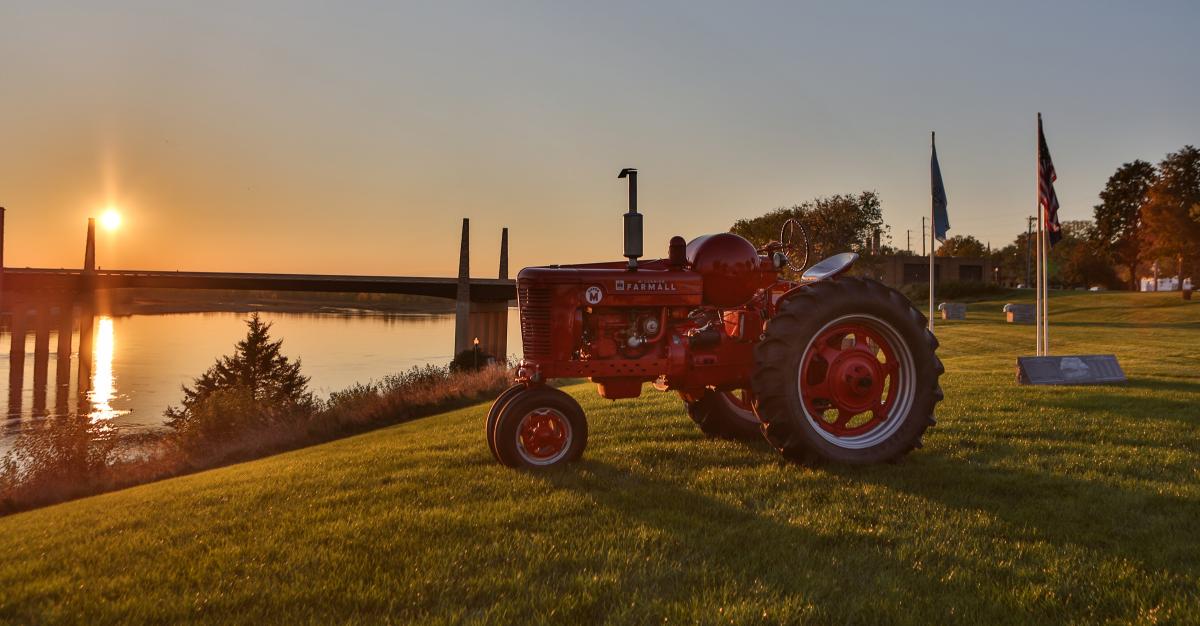 After I finished at Jason's, I headed over to visit with Wilbur Goehring, which is 1 hour and 4 minutes away from Jason's place. We shot Wilbur's Super MTA until dark, and I drove back to my hotel.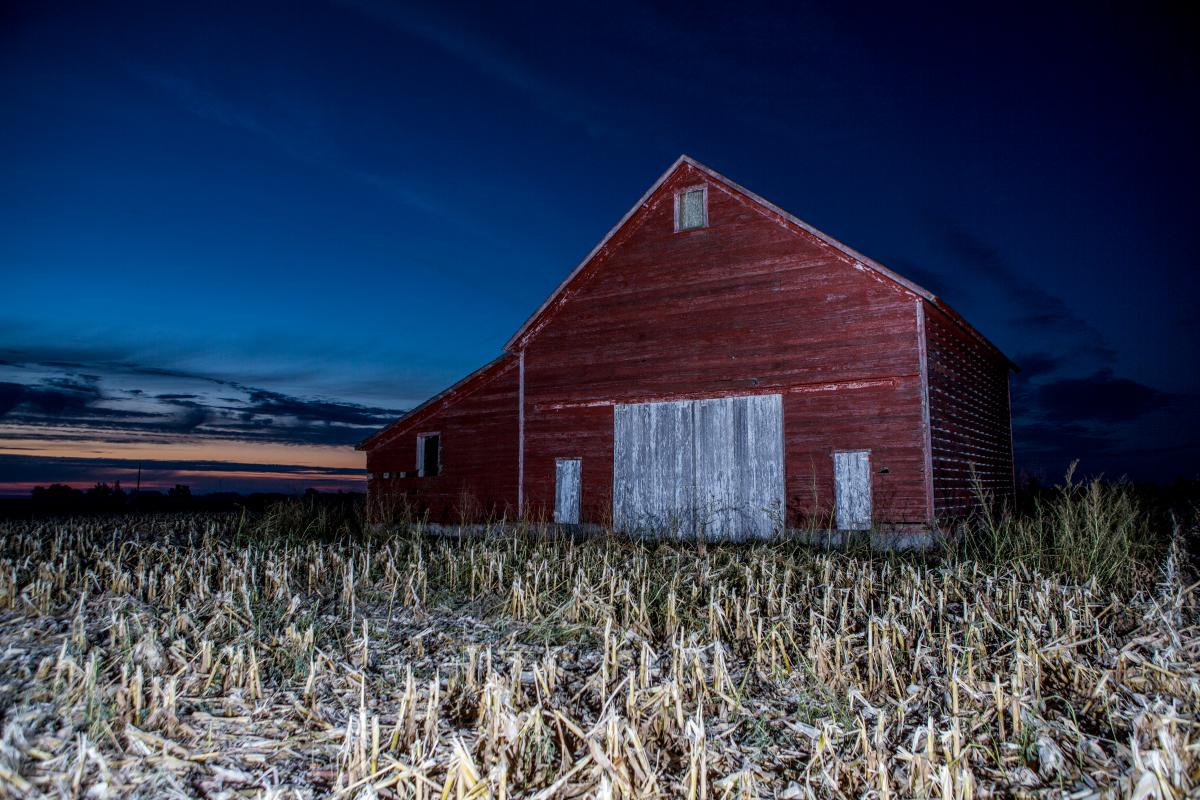 The next morning, I was back out at Jason's place for a sunrise shoot. He had this cool old barn I wanted to shoot, which you see above. The first shot from that shoot took place at 5:07 a.m. I remember it was cold and windy, and the road through the corn field to the barn was beat to hell. I was happy to be driving a rental that morning.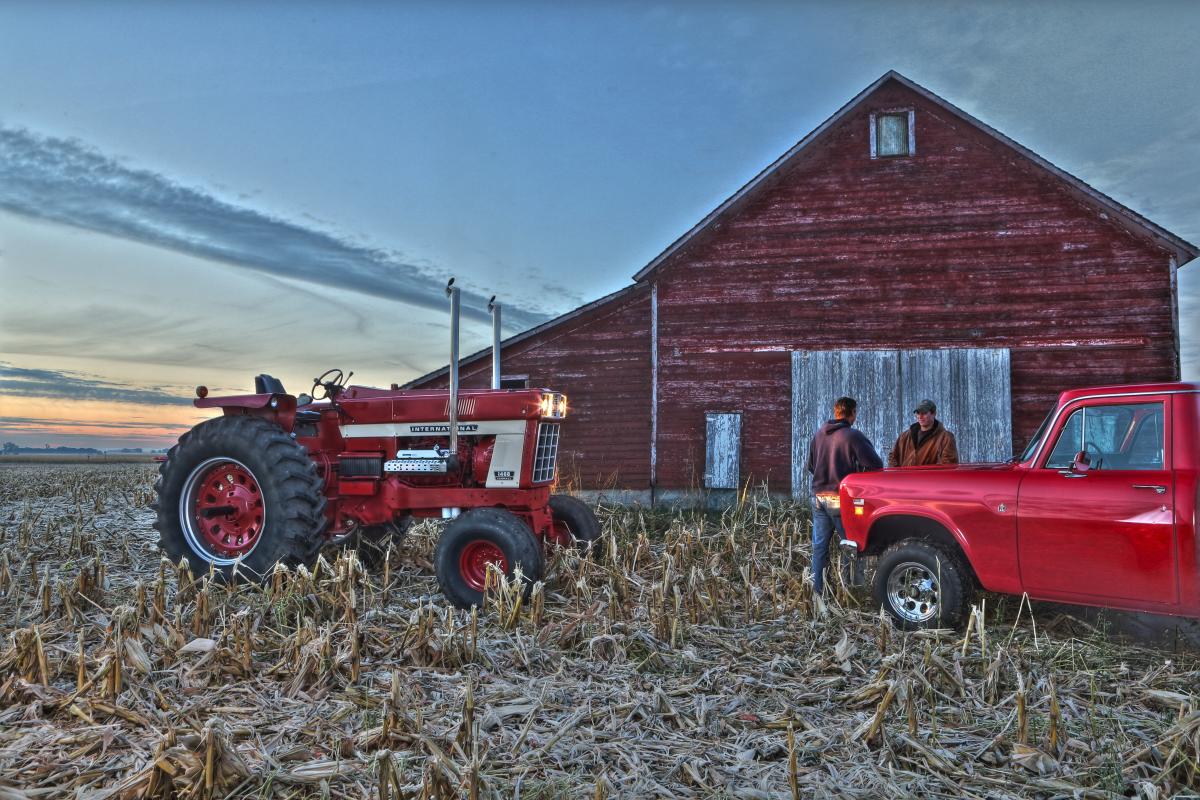 Jason Sweeter had a sweet pair of V-8-powered Internationals which he drove out to the barn, and we made this shot at 5:27 a.m.   
I shot three more tractors that day, at three locations, all before 9 am.   
A great--if long!--day in my life. Looking back, I feel pretty fortunate to do this kind of work. Long days go fast when you love what you do! 
For more amazing photographs check out the Farmall Calendar 2017!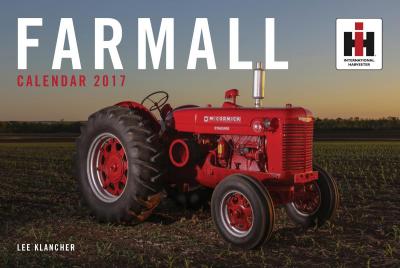 ​