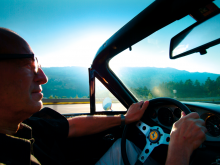 Günther Raupp
Photographer and Designer
Creator of the Official Ferrari Myth and Scuderia Ferrari calendars
Photographer and designer behind the esteemed and sought-after collectible Ferrari Myth Calendar and Scuderia Ferrari Calendar. 

Günther Raupp studied painting and art history at the State Academy of Art in Stuttgart. It was here that he discovered a penchant for photography. The Stuttgart Staatsgalerie, a prestigious art museum, presented an exciting audiovisual solo exhibition about Venice by the then 25-year-old; it ran for eight months. He then garnered interest with unusual advertising spots, before his first automobile customers asked him for photographic productions. Today he shoots campaigns, brochures and magazines for Audi, Buick, Fiat, Ford, Jaguar, Lancia, Maserati, Opel, Porsche, Toyota, Volkswagen, Volvo and others. Günther Raupp ranks as one of the most sought-after automobile photographers in Europe and the USA.

Even as a young freelancer he followed his passion for Ferrari. He fulfilled his dream of buying a Dino 246 Spider and in 1984 began to photograph and produce his own Ferrari calendar. Enzo Ferrari congratulated Günther on his first edition and thanked him for the calendar that he had been sent. This set the benchmark for the unparalleled history of a calendar series that is today most sought-after by Ferrari enthusiasts worldwide. His unique, unmistakable photographic style, and the unequalled reproduction quality of his calendars has impressed some of the most famous Ferrari collectors throughout the world, who have opened the gates of their private collections exclusively for him. 

After the recent exhibition premiere in the Ferrari Museum "Galleria Ferrari" in Maranello, there follow individual exhibitions in the Haus der Wirtschaft (House of Economy) in Stuttgart, Basel, Valencia and lastly in the Unesco Weltkulturerbe Stahlhütte (world heritage steel mill) in Völklingen, which attracts around 33,000 visitors. 

Collectors can also buy the photographs as valuable originals, created using an elaborate diaplex process in 120 x 120 cm format, and personally signed by Günther Raupp.