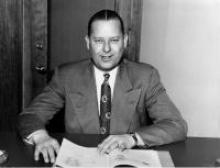 ​T. Herbert Morrell
Back to staff list
T. Herbert Morrell was born and raised on a farm near Blue Mound, Kansas. In addition to farming, his family built silos, water reservoirs, barns, and other farm buildings. In the mid 1920s they maintained natural gas wells in the area. He went to a country grade school, attended high school in Blue Mound, and earned a Bachelor of Science degree in Mechanical Engineering from the University of Kansas in 1941. His first position was as an Ammunition Engineer for Remington Arms Company in Bridgeport, Connecticut, during World War II. In 1944 he began working for Oliver Corporation in Charles City, Iowa, as a Design Engineer. He was promoted to Assistant Chief Engineer in 1950 and to Chief Engineer by 1951. His title was changed to Senior Chief Engineer in 1963 when crawler tractors became part of his domain.
During his time with Oliver''s Engineering Department, Morrell played key roles in the development of several innovative Oliver products and features, including the Fleetline tractors, power take-off, and the testing of the experimental XO-121 tractor.
From 1965 to 1970 he was Coordinator of Outside Projects at Oliver''s corporate headquarters in Chicago. He was Vice President of Engineering with Owatonna Manufacturing Co. until 1977 when he became a management consultant for design engineering and safety. Morrell has been an expert witness for approximately 150 lawsuits. A member of the Society of Automotive Engineers and was a Fellow (Distinguished Member) of the American Society of Agricultural Engineers, he was especially interested in the safety of agricultural equipment and served for many years on the safety standards committees of the SAE, ASAE, and the American National Standards Institute. Even though his health was declining, he worked very hard to finish this book. The manuscript was completed on September 29, 1996, and he died three days later.