You need more RED in your life! The newest addition in the Red Tractors Series, Farmall Century: 1923–2023, and the 2024 Farmall Tractors Calendar will keep you satisfied all year long!
Farmall Century Book and Farmall Tractor Calendar Bundle
Farmall Century celebrates the 100th Anniversary of the revolutionary Farmall tractor. This authoritative model-by-model history traces the evolution and design of the most significant farm tractors of the 20th century. Award-winning author Lee Klancher chronicles how and why the Farmall tractor came to exist and how it evolved with his signature blend of compelling stories, engaging text, and spectacular images.
 The Farmall Century book includes: 
An intimate look at the creation and evolution of the original Farmall tractor, the Regular.
New discoveries, such as the very first gasoline tractor–it's NOT the machine you think!
A dramatic telling of how IHC was founded and formed, including a look at the history of the McCormick and Deering company.
Never-before-published photographs of prototype tractors as well as one-off variations of popular models.
A mix of newly created images, gorgeous archival imagery, and engineering drawings and sketches.
Complete coverage of all IH tractors from the very first examples up to 1957.
A visual guide to all post-1957 tractors to carry the Farmall badge.
Complete coverage of the IH crawler line.
Detailed coverage of the high-performance modifications offered by the M&W Company of Elmo Meiners and Art Warsaw for Letter Series and later tractors.
Complete coverage of IH machines built for World War II.
---
The 2024 Farmall Tractors Calendar highlights the golden years of the Farmall brand, and Lee Klancher's gorgeous images of vintage machines in rustic farm settings take center stage. The spectacular visuals are accompanied with stories about each machine and details on how that model fit into the Farmall evolution. Included are some of the most interesting models in Farmall history, and the calendar itself is a stunning and collectible celebration of 100 years of one of the world's most iconic brands.
The 2024 Farmall tractor calendar features the following machines:
1930 100,000th Farmall
1938 Farmall F-20 with Farmer's Friend Lift
1939 Farmall M
1942 Farmall H US Army
1945 Farmall B
1952 Farmall AM
1955 IH Cub Lo-Boy
1956 IH 300
1957 Farmall 450
1961 Farmall 560 Turbo and Elwood FWA
1967 Farmall 806 Propane
1967 Farmall 1206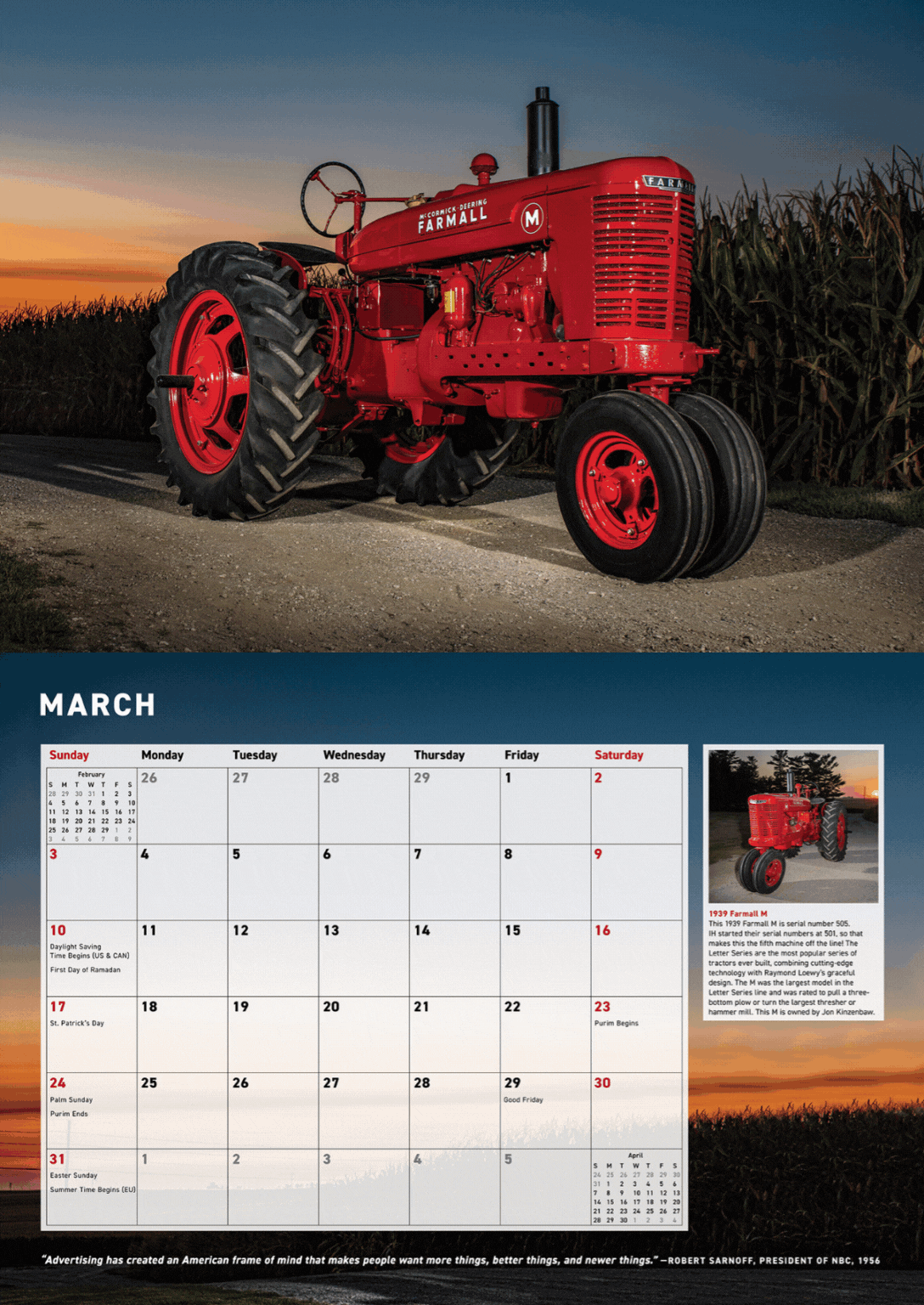 Product details
Title:
Farmall Century and 2024 Calendar
Publication date:
Wednesday, March 17, 2021
Dimensions
10.5 × 11.81 × 1.6 in